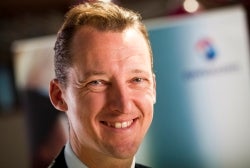 Swisscom Hospitality, the division of the Swiss telecommunications operator focused on serving the hotel and conference industries worldwide, has appointed Alfonso Tasso as its new CEO. He succeeds Leo Brand, who has led the company for the last six years. Alfonso's mission is to further strengthen Swisscom Hospitality's presence in its core markets and focus on the continued delivery of Swiss-quality products and services.
Alfonso Tasso is an industry veteran; he joined Swisscom Hospitality a decade ago and helped bring it to its current leadership position in the market, most recently as executive VP for EMEA.
"I am delighted to take over the leadership of the company at a point where an increasing number of key clients place their trust in us, across many regions of the world," said Alfonso Tasso. "I look forward to working closely with these clients to ensure we continue to deliver a world-class offering to delight their guests, and drive operational efficiencies in their businesses."
Commenting on the appointment, Jürgen Galler, president of the Swisscom Hospitality Services board, stated: "Swisscom Hospitality is uniquely placed to serve the needs of the international hospitality industry; it is an important component of Swisscom Group's strategy. Alfonso's contribution to the company made him the logical choice to take Swisscom Hospitality into the next phase of its development."
Alfonso Tasso is a Swiss-educated Italian, an Economics graduate from Cambridge University and holds a Masters from Sciences Po in Paris. Before joining Swisscom he helped launch the TV service of the Associated Press and then led a pan-European Telco venture with the Comcast Corporation.