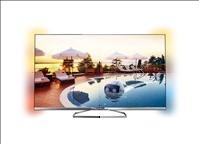 TP Vision announces a new range of Philips Signature hospitality TVs with an emphasis on beautiful design. Frameless and featuring two-sided Ambilight, they sit well in guest rooms with stylish interiors. Signature TVs feature a complete set of hospitality features to satisfy guests' and hoteliers' needs. Philips Signature TVs come in two different screen-sizes of 107cm (42in) and 119cm (47in) and will be available from the second quarter of this year in Europe, Middle East, Russia and APAC.
Slim, chic and frameless design
Philips Signature TVs fit modern guest rooms with contemporary interiors perfectly. They are made from high-grade materials such as glass and metal with a frameless design in silver and black. The elegant, slim sets sit on an open stand creating a floating effect.
Two-sided Ambilight
Signature's two-sided Ambilight enhances the impression of floating by projecting light, precisely matching the colour of the on-screen content, onto the wall behind the TV.
Complete set of hospitality features powered by Oxigen
Philips Signature hospitality TVs are packed with the complete Philips Oxigen portfolio. This comprehensive set of hospitality features and services is designed to deliver the latest in connectivity to both guests and hoteliers while ensuring low-cost of ownership.
Remote configuration and maintenance
The remote configuration tool SmartInstall makes installation and maintenance of TVs efficient and easy. It allows fast installation, cloning of settings, software upgrading and channel mapping without the need to enter hotel rooms. SmartInstall also gives hoteliers remote access to SmartInfo pages. SmartInfo delivers customised information directly to the Signature TV screen.
Comprehensive connectivity
A comprehensive range of interfaces and ports, including USB, HDMI, Ethernet LAN and WLAN, allows Philips Signature TVs to connect seamlessly with networks and guests' smart devices. Miracast and DirectShare allows all formats of movies, pictures and music to stream from all leading smartphone and tablets platforms (iOS, Android and Windows) to the Signature TV in their guest room. Secure pairing mechanisms protect guests' private content and data.
Secure access to configurable Philips Smart TV offering
Guests can securely access the cloud-based Philips Smart TV offering, including a large number of online apps, catch-up TV services and social media platforms. AppControl allows hoteliers to add, delete and sort apps and create different profiles for different rooms.
Professional services enhancing ROI
Customers of Philips hospitality TVs are served by a customer care team that specifically focuses on Hospitality TV. In addition, TP Vision's hospitality TV business unit runs a large partner network with local contacts offering professional and reliable services including on-time and on-location logistics.
---
Image: Philips Signature hospitality TVs with Ambilight. Photo: courtesy of Philips Hospitality TVs.