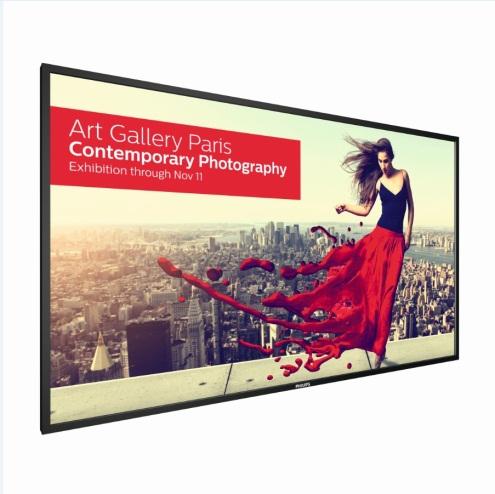 Philips Signage solutions brand licencee MMD has introduced a new line of signage displays with Ultra HD resolution, which is four times the resolution of full HD.
The 3,840 pixel x 2,160 pixel resolution provides an impressively immersive and life-like signage experience.
The first U-line models featuring Ultra HD measure 213cm (84in) in diagonal and will be available in the first quarter of this year. In the second quarter the year, MMD will expand the Philips U-line with its largest signage display that measures 250cm (98in) in diagonal.
Great brightness and large viewing angles
The U-line signage solutions come with in plane switching (IPS) panels for great colour reproduction, sharp and vivid pictures and large viewing angles of 178° in both horizontal and vertical direction.
The brightness of 500cd/m² allows Philips U-line to be deployed in areas with intense ambient light, either in landscape or in portrait position.
24/7 operation for demanding applications
It is essential that professional signage displays can keep up and running 24/7. Therefore, U-line professional Philips signage displays feature FailOver with a revolutionary technology that provides 24/7 protection.
In the unlikely case of a media player failure, FailOver automatically kicks in and loads back-up content onto the screen via a dedicated connection.
Remote control of settings
SmartControl software suite allows the remote control of an entire network of signage displays. Each U-line display can easily be identified and settings such as brightness, resolution, contrast can be fine-tuned remotely.
Quad-source support: multiple full HD content shown on one single display
U-line Ultra HD signage displays open up new opportunities to present content in both Ultra HD and full HD quality. The new high-resolution signage displays allow the display to be split into four areas, each capable of playing back Full HD content from a separate full HD source.
The quad-source support makes Philips U-line signage displays ideal for use in control rooms and other scenarios where multiple content needs to be gathered and presented.
MMD product manager Philips Signage solutions Harold Niericker said: "Our new U-line Ultra HD signage displays, which combine the highest possible resolution, great brightness, vivid colours, ease of use and deployment, and high reliability, meet the needs of even the most demanding applications."
---
Image: U-line includes the largest Philips signage display measuring 98in in diagonal. Photo: courtesy of Philips Hospitality TV.