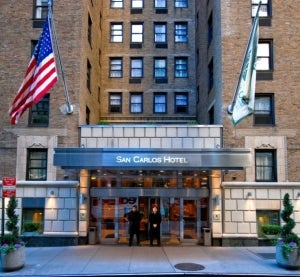 Luxury US hotel brand San Carlos has selected eRevMaxfor increasing their online revenue through optimal distribution. San Carlos will use RateTiger to manage their rate and room inventory updates across online sales channels, access market data for rate optimization while monitoring their online reputation – all from a single, integrated solution.
Located in upscale midtown Manhattan in New York City, San Carlos has been selling 147 rooms across four online sales channels. RateTiger will help the revenue management team to centrally manage rates and availability in real-time across a variety of OTAs, as well as monitor competitor rates in order to react to market dynamics and improve channel ranking. Reservations generated from their OTA channels will be delivered directly into the hotel's PMS, thereby eliminating manual interference, improve reservation data quality, and reduce their onward distribution costs.
"We need to update rates and inventories multiple times a day, and require a solution that will meet our demands for price shopping as well as channel management. RateTiger instantly confirms that an update has been made in the channel, right in the application, which is essential to my business in terms of saving time and money," said Fabio Leone, Reservation Manager, San Carlos Hotel, USA.
San Carlos will be utilizing the eRevMax Channel Ecosystem, which offers two-way seamless connectivity with global OTAs for more robust data transfer between the OTA and the hotel PMS.RateTiger users can take advantage of its large network of distribution channels including large global OTAs as well as smaller niche channels focused on specific target groups, countries and regions.
"RateTiger by eRevMax will help the San Carlos Hotel manage distribution to an optimized mix of channels – the use of pooled inventory solution automatically decrements availability as bookings are converted, thereby ensuring no manual interference is required. Further availability alerts notify the team when particular channels reach minimum allocation thresholds so they can re-allocate available inventory while maximizing revenue in real-time," said Jan Murza, VP Sales – Americas, eRevMax.
The San Carlos Hotelwill also use RateTiger Review, the online reputation management module from eRevMax, to monitor and manage guest feedback and keep a track of their competitor's popularity quotient across 17 travel sites.
LaTour Hotels and Resorts, one of the leading hotel management companies in US, has partnered...