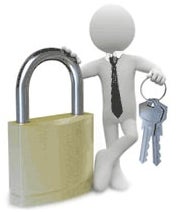 Credit cards are commonly requested by hotels for guaranteeing reservations. But is CC data stored in a PMS really safe?
Fraud generates billions of Euros in losses every year. That's why American Express, Discover Financial Services, JCB, MasterCard Worldwide and Visa International founded the Payment Card Security directive, known as PCI DSS standards, with the goal of guaranteeing CC data security.
These companies, as well as an increasing number of tourism operators already request merchants comply with PCI DSS.
Merchant risks of not being PCI DSS-compliant in cases of fraud:
Reimbursement of stolen funds
Costs for the regeneration of cloned credit cards
Termination of contracts with credit cards issuers
Loss of reputation towards the clients
Possible exclusion from franchising chains and hotel brands
GP Dati complies to PCI DSS
GP Dati is one of the first PMS vendors to be certified according to the strict criteria of such international policy.
GP Dati's SCRIGNO web property management software suite and the entire datacenter where it is hosted has obtained the PCI DSS certification.
That means that, by adopting a SCRIGN- hosted solution, not only you can minimise your hardware investments and optimise your software configuration, but you can guarantee the utmost security and data protection to you and your clients.
Talking about security… GP DATI now partners with SIX Payment Services
With the view of offering protection and higher guarantees to its clients, GP Dati entered into a partnership with SIX Payment Services.
Among the founders of PCI DSS, SIX Payment Services is one of the world-leading companies for credit card-related services and payment solutions.
The agreement involves the integration of the 3CIntegra Hospitality solution into SCRIGNO PMS.
3CIntegra Hospitality allows direct management of credit card transactions from the PMS through secure technology.
In practice it captures the transactions from the front-office system, allowing performance of credit card pre-authorisation at check-in, to simplify the procedures for checking out and to have various features including DCC (Dynamic Currency Conversion) for payments in currencies other than the Euro.
The customerATAHOTELS is an important Italian hotel chain that has been operating for over 40...