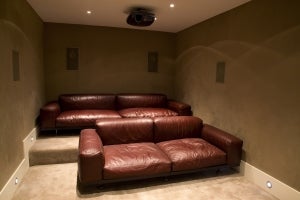 Fabric walling can be designed to offer either a casual or a formal look. It helps create an inviting atmosphere and a sleek, tailored-style room.
The choice of fabric can make all the difference. Contemporary fabrics tend to add an uncluttered, stylish look to a room. Fabric can help to bring an individual touch to any room.
Walling can be used to add design interest to ordinary rooms, offices or hotel decorations and can help to emphasise details in a room.
Fabric can also help cover imperfections on the walls, and the battens and padding helps insulate the room and absorbs sound. This is perfect for home cinemas.
Certain fabrics such as stripes and plaids need to be avoided if walls are not straight or material such as leather, linens, velvets, damask, cotton, wool can complement walls superbly. A wall isn't just a wall, it's an opportunity for a more dramatic and interesting look.
Please contact Mille Couleurs London to find out more, or visit Grand Designs Live London from 5-13 May 2012 to see our latest product offerings.