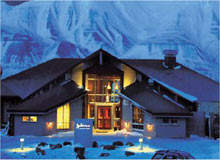 Scandinavia is a region in which major international brands are keen to be represented. But the market is by no means straightforward, with a dominance of mid-market domestic hotels and the majority of property contracts signed on a lease basis. Because of this, it has taken a number of years for international luxury brands to move in. While Norway, Sweden, Denmark, Iceland and Finland have very individual characteristics, all are showing positive growth.
Most investors agree that the region's hospitality industry is expanding, both in the business sector and the weekend leisure market. Nearly half of visitors come from the US, UK and Germany, with numbers set to rise as more tourists are drawn to key sporting events and the eco-tourism segment. In the long-term, experts predict that Scandinavia will become a favourite with tourists wanting to escape the sweltering temperatures in continental Europe caused by global warming.
Peter Tengström, the director of business development for the Rezidor Hotel Group, says he believes the Scandinavian market is on the top of the business cycle.
"Market development in the past year has seen a high growth in rates, between 10% and 15% in the larger cities and lower in regional and other cities. Growth in occupancy has slowed down, but is expected to remain stable in 2008."
The Rezidor Group, which has more than 65 hotels and 13,565 rooms in the Nordics, is in a prime position to capitalise on a market it already dominates. Launched in Scandinavia in the 1960s, it has become one of the fastest growing hotel groups in the region. Its first-class brand, Radisson SAS, is the most recognised and preferred brand in Scandinavia – the group is set to add 2,000 new rooms by 2009.
According to Tengström, Rezidor intends to strengthen its position in the region, with a focus on developing its Radisson SAS and Park Inn brands. Lotten Fowler, the director of business development for Rezidor Hotel Group, Sweden, has witnessed first hand the internationalisation of the market, in terms of guests, operators and real estate owners, explaining that, in general, only the capital cities draw a large portion of international travellers, while the regional Scandinavian market remains domestic.
Alongside Rezidor, other main operators in the region are Scandic and Choice Hotels. Best Western, Rica and First Hotels also have a large market share, while operators such as Marriott, InterContinental and Hilton have one or two hotels. Historically, Scandinavia is also important to the Starwood group, which opened its first European hotel in Stockholm in 1972 and later in Helsinki and Copenhagen.
A CAPACITY FOR GROWTH
Jan Nielsen, the area manager for Belgium and Scandinavia at Starwood Hotels & Resorts, agrees that the market is thriving. "People are associating the region with fresh air, cleanliness and a safe and secure environment. There is also a huge interest in Baltic cruises and if you take a port like Copenhagen there are around 100 turnaround cruises which is a significant part of the business."
He admits that, like all regions, the Nordic region has suffered dips, but is currently strong and has a capacity for growth, particularly in areas like Copenhagen where a lot of construction is taking place. The Great Belt Bridge opened in the city in the summer of 2007, linking the largest islands of Sealand and Fyn. The Oresund Bridge, which joins Denmark and Sweden, is due to open in 2009.
The conference market is also booming, with the Copenhagen Downtown Congress Centre due to open by 2010. Spanning 75,000m², the venue will have a maximum capacity of 4,000 people. The complex will include a 1,300-room hotel run by the family-owned Danish Arp-Hansen Hotel Group, which currently owns1,700 rooms in Copenhagen and is set to become the city's largest player.
The CEO Dorte Krak, Arp-Hansen Hotel Group says: "We really believe in Copenhagen and think that the city has plenty to offer as a convention destination." According to Krak, Copenhagen's success was supported by the airport's position as a main air traffic hub, its low crime rate, high efficiency levels and cultural attractions.
"Stockholm has grown by double figures and has some good projects going forward."
According to Lars B Jørgensen, the managing director of Wonderful Copenhagen, Copenhagen's official tourism site, in the first seven months of 2007, the number of bed nights increased by more than 4% in the city. Projects for 2008 include an all-suite hotel in the famous Tivoli Gardens and construction of Denmark's largest hotel – a two-star project in Orestad by Danish budget hotel chain Cab Inn.
InterContinental Hotels Group has also signed a franchise agreement with CPH Hotel Management for a four-star hotel in the new Copenhagen Towers shopping and business complex in Orestad, due to open in 2009.
According to Tengström, Copenhagen is the main driver in Denmark's hospitality market, while Norway and Sweden have stronger regional cities.
FINLAND
In Finland, the market is driven by just a few operators, which can result in low room rates and difficulties when it comes to establishing new hotels. Nielsen agrees that Finland is "a little bit different" and has suffered since the Baltics and Russia opened up.
"Cruises won't turn around there, they only visit for one day, but Helsinki is still doing well and the market is strong in business terms since it joined the EU with other businesses sparking off the success of Nokia," says Nielsen.
The country is drawing in a new leisure market from Eastern Europe and has launched into the design market with the opening of the Klaus K Hotel, which claims to rival "anything on offer elsewhere in Scandinavia" and attract considerable international interest.
"The Nordic market is very small but it's a very active travelling market and a good place for brands to be represented."
But, as Finland continues to establish its niche, Norway and Sweden are showing more sales than Denmark in their huge domestic markets.
"The domestic business is not luxury driven and in Sweden and Norway there is a huge population of domestic travel with a lot of business done in the capitals. Stockholm has grown by double figures and has some good projects going forward," says Nielsen.
These include the elegant 558-room Clarion Hotel Sign In, which opened in February 2008, and the Scandic Hotels 18th property, set to open in Stockholm in 2009.
"Historically, Stockholm and Oslo have been business and conference orientated, while Copenhagen has enjoyed a larger portion of leisure, but that difference has decreased over the last five years," says Fowler.
The domestic visitors that form the major portion of the hospitality market in Sweden and Norway is met by mid-market hotels, as labour costs mean that top-end hotels are expensive to operate.
"The Scandinavian market has generally been strong in the mid-market, and in the long-term I think the mid- and budget segment will have the largest growth, mostly because of the high labour costs in the region. The strongest competition can be found in the mid-market segment and most hotels focus heavily on running efficient hotels," says Tengström.
ICELAND
Hilton operates hotels in Copenhagen, Denmark; Malmo and Stockholm in Sweden and Helsinki in Finland. According to Joelle Hellinckx, the director of resourcing in Europe for Hilton, while the group has no expansion plans in the region, it has just branched into Iceland, with the 238-room Hilton Reykjavik Nordica, under a franchise agreement with Icelandair Hotels.
Wolfgang Neumann, the president of Hilton Hotels Europe, says: "Iceland's spectacular scenery, combined with its strategic location, means it is, and will continue to be, one of the most fashionable getaway destinations for European and American travellers."
The increase of low-cost flights to the region has increased its popularity as a holiday choice and tourism is one of the fastest growing sectors of the economy. Icelandair is one of the largest hotel companies in Iceland and hopes to capitalise on the market through its association with Hilton. It already runs two chains of hotels round the country, Icelandair Hotels and a series of 13 summer hotels under the Hotel Edda brand. While Hilton has focused its attention on Iceland, Starwood is considering openings across the region.
"The Scandinavian market has generally been strong in the mid-market."
Nielsen says: "The Nordic market is very small but it's a very active travelling market and a good place for brands to be represented. We are looking at openings in all of the countries but, because a lot is done through leases, it's a bit of a way off."
Tengström also believes there are profits to be had in the region, particularly in city locations and around airports. Marriott is another group that is expanding its presence in Scandinavia.
During the next six years it plans to open 15 new hotels in Sweden, Norway and Finland under a multiple franchise agreement with Scandinavian Hospitality Group AG. The group opened its first hotel in Scandinavia, the Copenhagen Marriott, in 2001 and will open its first two under the new agreement in Stockholm, in Sweden, and in Kristiansund – a major oil and gas centre in Norway – in 2009.
"Having a strong presence in the region has been a strategic objective of ours for a long time," says Arne Sorenson, the executive vice president of Marriott International.
While Scandinavia may have waited a while for its high-end investment, it seems there are now many exciting projects on the way.