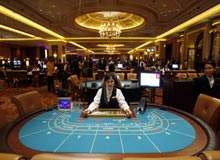 When the image of casinos, five-star luxury hotels and late-night partying is conjured, the mind tends to wander to the delights of Las Vegas. But for the second consecutive year growth in Macau, one of two special administrative regions of China (the other being Hong Kong), has beaten the US giant at its own game.
Long known as China's gambling enclave, it has, in the past five years, become a red-hot investment with the industry growing 50% year-on-year. Even tighter restrictions by the Chinese government on mainland nationals visiting the tourist town can't take the spike off the numbers. And, while the valuations of some operators are down on previous highs, analysts are still predicting this region as a safe bet while its counterparts in Nevada are struggling to find new funds for expansion.
But such phenomenal success, especially so close to the mainland, is a double-edged sword.
The gaming sector, including the luxury hotels and restaurants that go hand-in-hand with it, now accounts for 80% of the city's income. While this provides countless new jobs for the half a million population, it also brings with it new price highs for consumer goods and a shortfall of workers willing to work in lesser-paid industries.
In addition, despite Macau being a great example of China's development, the Chinese government is still wary of its activities and won't even allow adverts of the destination on mainland soil.
Playing the game
Macau is the only area overseen by China where gaming is permitted, and visitors mostly cross by ferry or take short flights over from the mainland. A representative for the Gaming Inspection and Coordination Bureau, also known as the DIJC, says that visitor breakdown for mainland China, Hong Kong and Taiwan stand at 57%, 29.2% and 4.3% respectively.
Until 2002, Chinese businessman Stanley Ho held a 40-year monopoly on the development of casinos in the city, and under his single-handed stewardship growth began at a phenomenal pace.
"Macau is the only area overseen by China where gaming is permitted."
Since the liberalisation six years ago, the Chinese government has only issued a total of three licenses and three sublicenses to casinos wishing to set up shop. They are allowed to operate are MGM Grand Paradise, Melco PBL Entertainment, Venetian Macau, Galaxy Casino Company, Wynn Macau and Sociedade De Jogos de Macau. By the end of the year, gambling revenue is predicted to grow by 70% to more than $14bn and over 30 million visitors are expected to tread the casino carpets.
Although only six licenses have been granted, the sheer scale of each of the operations shouldn't be underestimated. In June, PricewaterhouseCoopers issued a report stating that in 2008 Macau would not only beat Las Vegas for gaming revenue but the whole of Nevada.
Gaming growth
A good example of how big one operation can grow is Melco Crown Entertainment. After one of the biggest US IPO's in 2006, Melco generated $1.14bn and had money to spend. Now its assets include Crown Macau Hotel Casino – a luxurious and contemporary hotel – and half a dozen 'Mocha Clubs' for instant electronic gaming (plus caffeine) fun.
But the jewel in Melco's crown is set to be the City of Dreams, the first phase of which should be ready by March 2009. This enormous development will include 420,000ft² of gaming space as well as 85,000ft² dedicated for retail. In addition, a Hard Rock Hotel (366 rooms), a Crown Towers Hotel (295 suites) and a Grand Hyatt (1,005 rooms) will all provide luxury accommodation for weary gamers. And in September 2009 the Theatre of Dreams will open, with a seating capacity of 1,700.
But even Melco is not indestructible and between 19 August and 21 August Melco's share price slid 17% because of fears that China may restrict access to Macau for the mass Chinese market. Analysts argue that this is more of a minor blip than a long-term trend, however, and still cite the region as a good investment opportunity.
"The gaming sector, including the luxury hotels and restaurants, now accounts for 80% of Macau's income."
And they may be right. Even in an enclave of just 11 square miles there are untapped 'hot' areas and the Cotai Strip is the next big thing. By 2010, hotels belonging to the Sheraton, St Regis, Hilton, Traders, Conrad, Raffles, Swiss Hotel, Intercontinental, Holiday Inn, Cosmopolitan Fairmont and Shangri-La will all be in operation, offering more than 20,000 rooms.
On 31 August, the Venetian complex extended its facilities with the opening of a Four Seasons Hotel and a Plaza Casino, both situated on the Cotai Strip between the islands of Coloane and Taipa. The hotel unit cost nearly $1bn with 360 rooms, restaurants and a shopping area covering 19,600m². The Venetian development is owned by Las Vegas Sands and over the past four years has invested more than $2bn in its Macau operation.
Esther Kwon, gaming analyst at Standard & Poor's, says that as far as investment opportunity is concerned, Wynn Resorts is a particularly good bet. "Over the long term, we actually like Wynn a lot. We think that it is a very focused operation which is just concentrating on the US and Macau markets. I don't think they are spreading themselves too thin, trying to open up too many projects around the world at the same time," she says.
Tarnished success
Under the Sino-Portuguese joint declaration, the Basic Law of Macau stipulates that although Portugal formerly handed over the colony in 1999, Macau will operate until 2049 with a high degree of autonomy. For the time being, Macau operates a 'one country, two systems' policy where the Central People's Government is responsible for the territory's defence but Macau maintains its own legal system, police force and immigration policy. This means, at least in theory, that growth should continue to prosper.
But that does not mean its success is not receiving unwelcome attention and that the Chinese Government is letting it grow unchecked. Even Laurence Ho, son of Stanley Ho and now chief executive of Melco has been reported as saying that growth may be too fast to avoid more continuous intervention from China.
"Such phenomenal success, especially so close to the Chinese mainland, is a double-edged sword."
In April, DIJC's chief executive announced that no new licenses would be issued for an 'undetermined period of time' and no land would be allocated for building casinos. A representative of the DIJC confirmed this was still the case and will be for the near future. Indeed, William Weidner, chairman of the Las Vegas Sands Corporation, said that the Four Seasons development plans were six months behind schedule because of the restrictive measures implemented by the government. There were also indications that three more sites were still awaiting approval.
Alongside high consumer prices and an increasingly unbalanced economy, come basic infrastructure problems.
Las Vegas Sands's Weidner has called for urgent improvements to the public transportation system according to reports by Macau News. He says that a light railway system needs to be constructed and called for the expansion of Macau International Airport which is operating at nearly double its capacity. In addition, other industries are now becoming eclipsed by the higher salaries of the tourism industry, causing shortfalls in staff. The growth has been so rapid that on occasions even the hoteliers struggle to fill positions.
However, a DIJC spokesperson argues that steps are being taken to address this. She said it was clearly outlined in the policy address of 2008 that the Macau government "will drive a diversified economy with stronger momentum by promoting integrated tourism, optimising economic and trade platforms [and] developing related services." She says that this clearly shows that they are aiming to diversify the local industry and, in her opinion, "growth will now continue at a moderate pace."
A safe bet?
In March, Credit Suisse reported that Macau's hotel and casino operators would see a profit squeeze and this was soon reflected in their stock valuations.
Shares of Melco Crown Entertainment reached a three-and-a-half year low in July after reports in Hong Kong suggested that China may implement visa restrictions curbing the frequencies of visitors' trips to the region. Melco's year-to-date peak was experienced in May when shares traded on Nasdaq for $14.47 but have since fallen to $6.60 as of 2 September. Likewise, Las Vegas Sands, Wynn Resorts and Galaxy Entertainment Group have each witnessed their valuations slump.
Las Vegas Sands had its year high on 2 January and has failed to recover above half this value. In Kwon's opinion the Las Vegas Sands could be a risky investment. "We think Las Vegas Sands are trying to do too much and there is a lot of execution risk," she says.
The gaming sector usually stands up well in credit squeezes but in this downturn even the bright lights of Las Vegas are a little dimmer.
"The gaming sector usually stands up well in credit squeezes."
"It has been a little surprising that they have not been recession proof. If you look at Las Vegas you are looking at a business model that reached out to a new customer base. By that I mean that they targeted not just hardcore gamers but people looking to be entertained, who want to go to restaurants and clubs. It is also targeting businesses as the location to host conventions and important meetings. Both of these are vulnerable to economic cycles." In Kwon's opinion, Macau might be a safer bet.
Firstly, it is situated in Asia which is yet to feel the full credit pinch. But principally, it is still a growth market. "I think the outlook is a little bit better in Asia, Macau is still a growth market and it is still gaining penetration. There has been an enormous amount of capacity addition in Macau especially in the Cotai Strip so we might see a bit of a lull as that capacity is absorbed." Kwon says that all the operators now need to grow into the multiples reflected in their share prices. As the restriction still stands preventing new developments from getting the go ahead growth should happen over the next few months.
The hoteliers and casino operators in Macau have done such a good job in replicating Las Vegas's success that they are now debating how to bring some of those profits back to Nevada. Hardcore gamers will ensure Macau's growth over the next few years and a bridge linking Hong Kong, Macau and Zhuhai in Southern China is scheduled in the coming months providing another method of entry. So, Macau's winning hand seems to be holding out. But relying almost solely on tourism for its income is a game of chance, with increasingly harder odds.