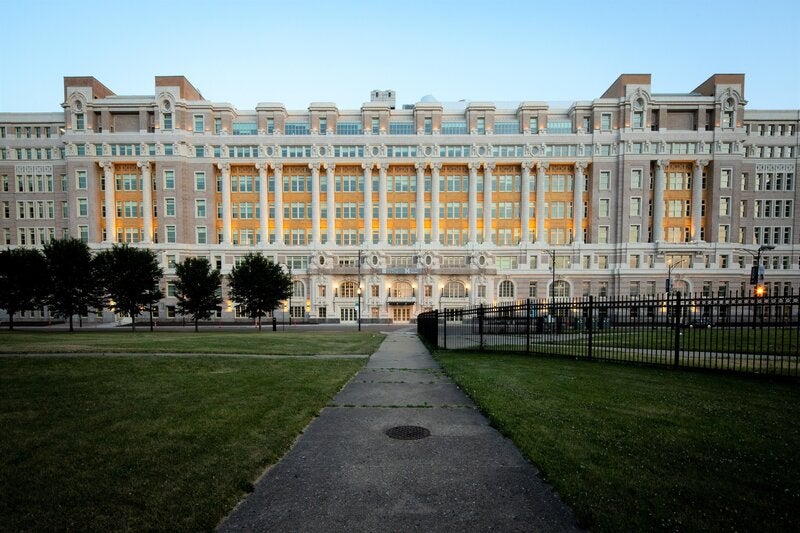 US-based Walsh Construction has completed the rehabilitation of the 104-year-old Cook County Hospital building into a dual branded Hyatt Place and Hyatt House hotel, accompanied by Dr. Murphy's Food Hall.
The project, which marks the first phase and serves as an anchor for Harrison Square, will add residential, office, retail and hotel space in the area surrounding the former hospital in the Illinois Medical District.
It was directed by the Civic Health Development Group, which is a joint venture led by Chicago-based Murphy Development Group along with MB Real Estate, Walsh Investors and The Granite Cos.
Decommissioned in 2002, the 345,000ft2 Cook County Hospital has been lying vacant for over 15 years. Preservationists, historians, and other citizens were concerned that the Beaux Arts building was at risk of demolition. However, their concerns were allayed when it was officially announced in 2018 that the medical institution would be transformed.
The former hospital and medical college has been transformed into a 210-room dual branded Hyatt House and Hyatt Place hotel.
This project also provides medical office and retail spaces and 10,000ft2 of Dr. Murphy's Food Hall, which has been named after renowned surgeon Dr. John Benjamin Murphy, who studied, practiced within Cook County Hospital and the Illinois Medical District.
The project has been designed by architect Skidmore, Owings & Merrill.
It incorporates features that highlight the building's long history as a top teaching hospital and as first public hospital in Chicago.
This building also includes a museum chronicling the hospital's contributions to the region.
Walsh Construction co-chairman Dan Walsh said: "The old Cook County Hospital is rich in history, having served our community and nation for over a century, while at the same time being a fountain of medical research, innovation, and advancements.
"The Walsh Group is proud to have played a leading role in saving and transforming this unique historic structure; and delivering a reborn building that welcomes visitors and economic revival to the Near West Side of Chicago for another 100 years."