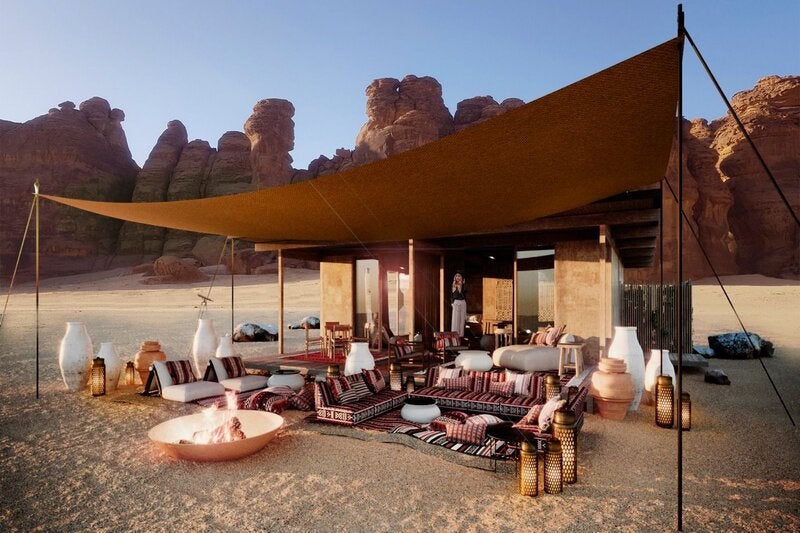 The Royal Commission for AlUla (RCU) has partnered with Habitas to construct a new community-focused resort in the desert canyons of Ashar Valley, AlUla in Saudi Arabia.
Construction of the first phase of the eco-friendly resort will conclude next year and will deliver of 50 rooms.
Habitas aims to empower AlUla's communities using the hotel, tourism and other hospitality industries.
RCU CEO Amr AlMadani said: "This agreement reflects our commitment to making AlUla a global destination that offers visitors unique, authentic experiences as we protect, share and celebrate our natural and cultural heritage.
"Construction is underway, a fact that signals that we are actively opening up new opportunities for regional and international investors in the hospitality sector while empowering and enabling our community."
Habitas's vertical integration of design, off-site modular construction and operations allow development of its hotels using sustainable materials.
The materials are manufactured in its facilities in Mexico and assembled on-site reducing the impact on the environment.
The resort will be designed to blend seamlessly with AlUla's landscape and heritage emphasising experiential luxury. Its staff will also undergo training.
Food supplies will be sourced from AlUla's farmers and local conservation efforts will be promoted among guests and tourists for local sustainability and environmental causes.
Habitas CEO Oliver Ripley said: "From our very first trip to AlUla we were really inspired by the people we met and by its natural beauty and heritage. Travel is an incredible gift to create greater compassion and understanding in the world between different people and cultures.
"We are grateful to RCU for the opportunity to create our home here and invite our community to discover the unique history of AlUla, to share unforgettable experiences and adventures, and make new friends that stay with us long after we leave."