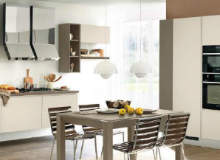 The constantly changing market is increasingly demanding and looking for innovative ideas for modern, classic and tailored furniture, which resulted in a different method of woodwork.
Pam designs and create furniture both classic and traditional style, and actual and contemporary style, in accordance with the customer's taste.
Design of warm and comfortable spaces like living rooms, furnishings which complete and enrich bathrooms, furniture that define and refine every space, cupboards, sideboards, bookcases, furniture customised and designed to built the home of your dreams.
The distinctiveness of the quality and the Italian style at the service of your taste
Imagine a kitchen or bathroom where colors and materials are harmoniously combined. Where surfaces, sinks and washbasins come together in elegant and harmonious shapes. Would it not be wonderful to be able to design your kitchen or your bathroom in this way?
Now you can. Thanks to Corian® all becomes easy. It is not only superior aesthetic quality, but also a solution of great functionality . With Corian, there are not more joints in the surface material but it becomes a monolith. Less time spent in combating stains, dirt, germs and mold: more time for you and your creativity.
The techniques for mounting undercounter without signs of junction eliminate the areas that trap dirt and moisture minimising maintenance and cleaning.
The easy installation of single or double sinks, or a series of individual ones, permits to design spaces that respond to the practicality needs, while providing a customised and smart solution and high aesthetic quality.