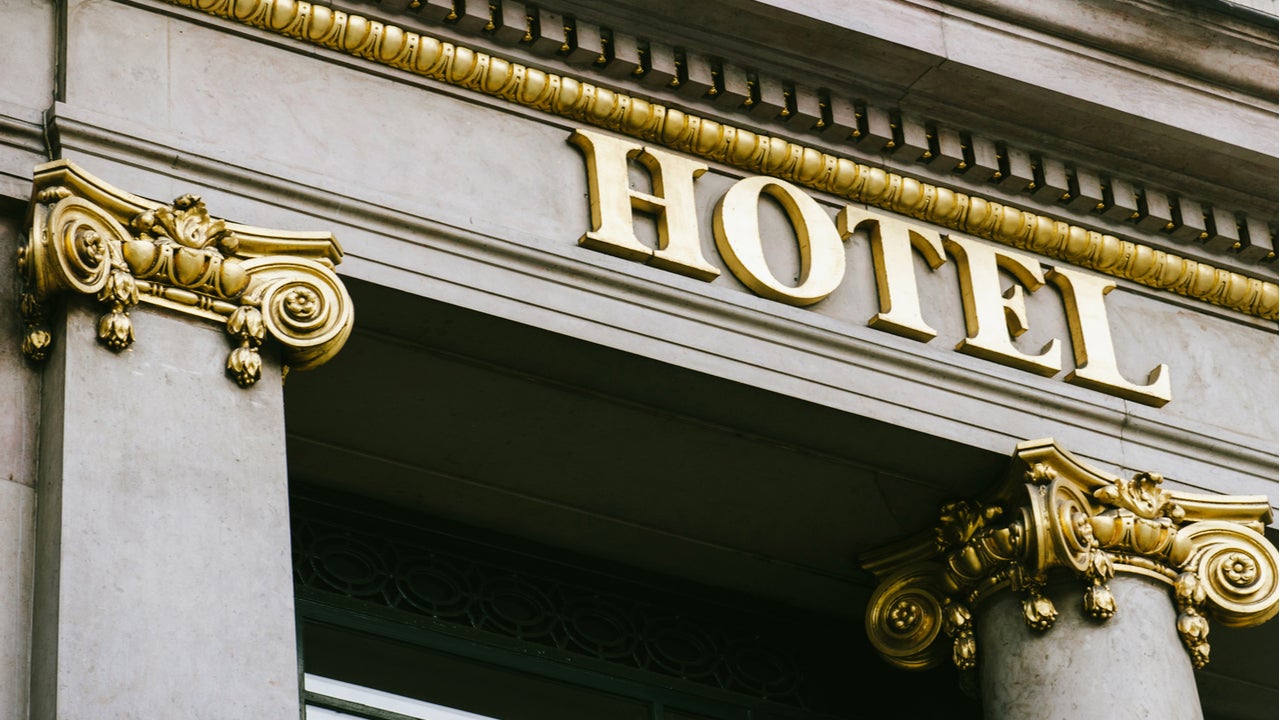 The top tweeted terms are the trending industry discussions happening on Twitter by key individuals (influencers) as tracked by the platform.
1. Hotel – 5,129 mentions
A new adults-only hotel in Mexico, New York's hotel workers to receive Covid-19 vaccine and hotels offering free Covid-19 tests for travellers were some widely discussed topics in Q1. According to an article shared by TravelPulse, a travel industry news portal, Hotel Xcaret Arte, an adults-only resort located in Mexico's tourism district Riviera Maya, will open in July 2021. The hotel will have 900 suites, ten bars and lounges, multiple pools, a spa, along with events and convention centres. The patrons of Xcaret Arte will have access to Group Xcaret's eco-adventures, while the property will depict the history of Maya cultures displayed in the five Casas, the article highlighted.
Further, Tiffany Dowd, a global luxury hotel expert, shared an article about hotel employees in the New York state receiving government authorisation for administration of Covid-19 vaccine. Hotel workers were added to the '1B' vaccine prioritisation group considering that these workers are exposed to the same infection risks as that of front-line workers, especially when hotels in the state are doubling as quarantine centres for Covid-19 patients.
The Hotel Traders Council has been lobbying with the state to include industry workers in the early stages of the vaccination programme. More than 400 hotel workers succumbed to the pandemic, while  thousands of others were indisposed after being infected with coronavirus as per the council's estimates, the article noted.
Hotel also trended in discussions shared by Peter S. Greenberg, travel editor for CBS News, about hotels and resorts easing the return of travellers through free Covid-19 testing and additional benefits. A huge number of hotels and resorts are taking this step as many countries have made negative Covid-19 mandatory for travellers. Hotel chains like Hyatt and Iberostar are offering this test free of cost to guests, with a hotel in Mexico also providing free accommodation for two weeks to guests testing positive for Covid-19, the article highlighted.
The much-anticipated grand opening of the adults-only Hotel Xcaret Arte in Riviera Maya is set for July 1, 2021.https://t.co/ucPof0f6yy

How well do you

really

know your competitors?

Access the most comprehensive Company Profiles on the market, powered by GlobalData. Save hours of research. Gain competitive edge.

Company Profile – free sample

Thank you!

Your download email will arrive shortly

Not ready to buy yet? Download a free sample

We are confident about the unique quality of our Company Profiles. However, we want you to make the most beneficial decision for your business, so we offer a free sample that you can download by submitting the below form

By GlobalData

— TravelPulse (@TravelPulse) March 1, 2021
2. Hospitality – 993 mentions
UKHospitality's plan for reopening the country's hospitality sector, a hospitality trust's turnaround amid the Covid-19 pandemic and Saira Hospitality's plans to launch hospitality school were some popularly discussed topics last quarter. According to an article shared by HOSPA, a UK-based hospitality professionals association, UKHospitality, a hospitality trade association, came up with a ten-point post-lockdown roadmap for the complete resumption of hotel and other services in the country in April.
UK's hospitality industry suspended its services in March 2020, following the imposition of Covid-19 pandemic-related lockdowns and restrictions before partially reopening in July. The sector lost approximately $100bn in sales last year as the industry remained shut for more than six months, the article highlighted.
Further, Hotel News Now, a news provider on hotel industry, shared an article on Ashford Hospitality Trust, a real estate investment trust, improving its balance sheet, after posting a net loss of $520.5m last year. The firm signed forbearance on a slew of its hotels last year despite the demand for hotels being subdued due to the impact of the pandemic. Ashford was able to modify loans for 25 of its hotels in 2021, the article noted.
Another discussion related to hospitality was shared by Richard Burns, an internet provider for hospitality industry, about non-profit enterprise Saira Hospitality's plan to launch its first permanent hospitality school in Spring 2021. Saira is partnering with The Monastery Boutique Hotel located in West Virginia, US for the project. The school will be located in the West Virginian city of Wheeling and offer a ten-week programme on a range of topics including service qualities and wellness. The hospitality school will strive to generate better learning opportunities for jobless people and provide the successful graduates with opportunities in the luxury hotel industry, the article highlighted.
Ahead of the next announcement, @UKHosp has shared a 10-point roadmap to enable #hospitality to successfully & sustainably reopen from April. @UKHospKate says "We urge Government to provide certainty & underpin the recovery with business support".👇
https://t.co/a4yP26zoBi

— HOSPA (@HOSPAtweets) February 19, 2021
3. Travel – 689 mentions
Scotland's plans to introduce new quarantine system for travellers, recovery time for the travel industry and travellers' confidence boosted by vaccine rollout were some extensively discussed topics in Q1 2021. According to an article shared by Simon Calder, a travel advisor, Scotland is planning to launch a 'managed quarantine' system for all the people arriving in the country. Scottish first minister Nicola Sturgeon announced this system, as she feels the restrictions currently being implemented across the country are not appropriate. The government plans to introduce the new quarantine requirement for travellers arriving directly in to the country. The Scottish first minister added that they cannot impose these restrictions on travellers arriving elsewhere in the UK and then entering Scotland.
Further, Rafat Ali, CEO and founder of Skift, a travel industry news portal, tweeted about travel experts opining that the global travel industry will not recover completely from Covid-19 pandemic-induced slump before 2024. He shared a graph published by United Nations World Travel Organisation (UNWTO) of a survey conducted among experts on the recovery of travel industry. According to the graph, only 1% of experts feel that the industry will rebound this year, while 43% opined that it will recover in 2023 and 41% voted for recovery to occur only in 2024 or later.
Other discussions surrounding travel included the surge in confidence among travellers in the US on the back of Covid-19 vaccine rollout, according to an article shared by Hotel Business, an online magazine. People are optimistic about leisure travel as more than 30 million vaccine doses have been administered across the country. More than half of the citizens who got vaccinated are willing to travel against 30% of the overall population. Further, vaccinated consumers are twice more likely to board a domestic flight. The increase in confidence among travellers provides a silver lining for the travel sector, which was the worst hit by the pandemic, the article noted.
Scotland: hotel quarantine and other measures.https://t.co/fFgXBhNBz3

— Simon Calder (@SimonCalder) February 2, 2021
4. Digital Marketing – 415 mentions
The role of search engine optimisation (SEO) in the travel industry, hotels leveraging digital technology in the post-Covid world and the need for user-generated content (UGC) among hotels were some broadly discussed topics during the last quarter. According to an article shared by Richard Burns, an internet provider for the hospitality industry, the travel brands need to follow a few important SEO tips to improve their image. Domestic travel is expected to remain popular over the next one year due to the ongoing pandemic.
The value of online search is, therefore, more important than ever with terms like 'near me' and 'last minute details' coming into prominence. Google, for example, is prioritising 'mobile-first' in search results indexing. The travel brands will need to ensure their website user experience (UX) is best for mobile users, as they make up around 60% of the internet traffic, the article highlighted.
Further, Tim Peter, an online marketing expert, shared an article about how hoteliers can leverage digital channels to facilitate guests and improve their stay in the post-pandemic world. Hotel operators need to use digital technologies to collect data regarding the needs of guests and create content to attract potential travellers.
Digital channels can help hotels answer questions that guest may have about safety in the post-Covid-19 era in addition to expenses related queries as they will be cautious about spending amid the pandemic-induced financial crisis. Hotels should also clearly communicate their cancel and refund policies as the uncertainty surrounding the pandemic is expected to continue in 2021. They should also look opportunities to offer innovative packages and offering to attract travellers, the article noted.
Digital Marketing was also discussed in an article shared by Are Morch, a social marketing coach, about the need for hotels to use UGC and the importance of integrating it into their digital marketing strategies. Research says that almost 50% of travellers depend on the reviews shared by previous visitors online to plan their holidays, as customers value peer reviews more than professional advertisements while choosing a hotel.
The brand engagement of customers rises by 28% when they check both professional content and UGC. Hotels can extract UGC from guests by persuading them to share their experience of stay and also by offering them incentives for sharing the content. UGC can play a pivotal role in hotel marketing campaigns as travellers want to virtually experience the hotel before making their booking, the article highlighted.
The Importance of SEO for Travel Brands – https://t.co/pAT6EMDFfG #hotel #hotelmarketing https://t.co/oZHoE9Ps2n

— Richard Burns (@tvforhotels) February 20, 2021
5. Cruise – 67 mentions
Israel set to become a world-leading cruise hub, UK-based cruise line necessitates vaccination for passengers and American cruise line to prolong cruise suspension were some trending topics during the year's first quarter. According to an article shared by The Points Guy, a travel expert, Israel will become one of the largest cruise hubs in the world as the country relaxed Covid-19 restrictions, following inoculation of majority of its population. The rapid vaccination drive across the country paved the way for reopening of cruising operations apart from providing its citizens access to hotels, gyms and indoor venues. Israel is in high demand with top cruise operators like Royal Caribbean, which announced the deployment of their vessels to the country, the article highlighted.
Further, Frommer's, an online travel guide, shared an article about Saga Cruises, a British cruise line announcing Covid-19 vaccine requirement for its customers, making it the first cruise company to make vaccination mandatory. The company declared that before it restarts sailings in May with the first voyage of the Spirit of Adventure cruise ship, all its passengers must be completely vaccinated for a minimum of two weeks. Saga initially planned to restart sailings in April but deferred it to give customers sufficient time to get inoculated. The mandatory vaccination is in addition to other safety requirements, which include pre-departure tests, physical distancing and compulsory masks, the article noted.
Another discussion surrounding cruise was shared by TravelPulse about Norwegian Cruise Line (NCL), a Miami-based cruise line, extending cancellation of its cruises until the end of May. The company suspended voyages of its subsidiaries Norwegian Cruise Line, Oceania Cruises and Regent Seven Seas Cruises. NCL will reimburse cruise fare for all the cancelled cruises and add 10% off coupon to the guests' accounts. The 10% future cruise credit (FCC) coupon will have a one-year validity from the date of issue and can be utilised for any voyage until 2022, the article highlighted.
Israel, of all places, is about to be one of the world's biggest cruise hubs https://t.co/SzqzEbJyg0

— The Points Guy (@thepointsguy) March 1, 2021