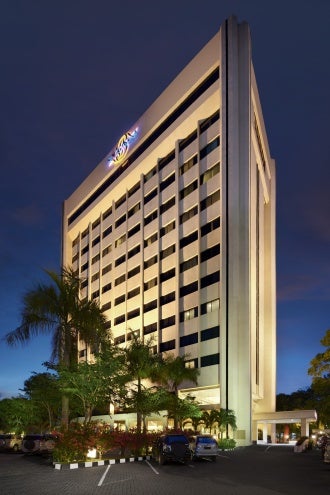 Leading Indonesian chain Singgasana Hotels and Resorts has partnered with online distribution specialist eRevMax to benefit from the growth of the online travel booking space.
With the rise in mobile penetration and the proliferation of new travel intermediaries in the region, travellers are bound to do more online research and reservations. Recent studies show that Indonesia will be the fastest growing online travel market in APAC by 2015, rising 268% over 2012.
Singgasana Hotels and Resorts is keen to ride this online wave effectively increasing visibility to potential guests at all relevant touch points.
To achieve this goal the premier hotel chain has subscribed to RateTiger Suite, eRevMax's globally renowned channel management product.
The integrated rate shopping and inventory management capabilities of RateTiger enables the Singgasana team to shop competitor rates on multiple online channels and use this price intelligence to pro-actively respond to varying market conditions and adjust their rates accordingly.
Singgasana Hotels and Resorts corporate digital marketing manager Ivana Novida said: "The offline segment has always been the biggest chunk in our production pie. To manage the recent spurt in online bookings, we needed a tool to manage our existing extranets efficiently while also adding new channels to increase visibility. RateTiger is a perfect match to our requirements."
"The real-time rate and inventory updates from a simple easy to use dashboard help us save a lot of time. Further, relevant notifications and rate shopping reports assist us in taking informed decisions. RevMax's network of XML channel connections is impressive and we are happy that we can reach out to new client bases."
"We are delighted to work with Singgasana Hotels and Resorts. Indonesia is an interesting market, not only for its growth potential, but also because mobile is big in the region. It is exciting to see new trends emerging and the challenge it brings. We as distribution technology providers continuously strive to offer relevant solutions for hotels to emerge winners in this multi-platform distribution race. The fact that Singgasana Hotels has chosen RateTiger is a big boost to our innovative technology and user-friendly solutions," said eRevMax vice-president of sales, EMEA, John Seaton.
Singgasana Hotels and Resorts is using RateTiger Channel Manager and Shopper for its deluxe and first-class hotels and residences in key destinations in Indonesia, including its flagship properties The Sultan Hotel and Residence Jakarta, Ayodya Resort Bali, and properties in Bandung, Surabaya, Makassar and Lombok.
RateTiger delivers two-way XML connectivity with leading online travel agents and hotel management systems (CRS/PMS). It helps hotels improve revenue through real-time ARI updates and leverage rate movements as per demand scenario. It is the most effective e-Distribution solution to drive bookings and maximise online revenue.
LaTour Hotels and Resorts, one of the leading hotel management companies in US, has partnered...