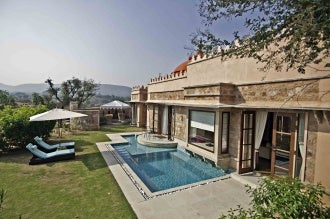 A luxurious hotel brand in India Tree of Life Resort & Spa has increased its online revenue with eRevMax through streamlining distribution process and reaching out to luxury travellers through niche sales channels.
The Jaipur-based resort is using RateTiger to manage its rate and room inventory updates in real-time across online sales channels, and to receive reservation data from its property management system (PMS); all from a single, integrated solution.
Tree of Life is a popular destination amongst high net individuals (HNIs), selling 14 villas across 16 sales channels. RateTiger helps hotels sell rooms from an allocated inventory pool across multiple channels simultaneously from a single platform, making online distribution completely automated, to save time.
All reservations made on online travel sites are captured and available inventory is automatically redistributed for the hotels to sell last-room availability, thus eliminating the chance of over-booking.
The luxury travel segment in India is growing by 20% to 25% annually. Travel remains the first choice for around 43% of HNIs in India, when it comes to lifestyle experiences. Tree of Life is leveraging eRevMax Channel Ecosystem's superior connectivity with global online travel agents (OTAs) as well as dedicated luxury sales channels to reach out to specific target groups and regions.
Tree of Life Resorts and Hotels group head Akhil Anand said: "We have seen an amazing growth year-on-year of revenue coming to us through online travel agents. Keeping in mind that this is the future, it was imperative for us to gear ourselves for the continuous growth to come. RateTiger has helped us connect with many important OTAs and has definitely helped increase our business base from this channel immensely. Updating rates and inventory has never been easier. The user-friendly interface and efficient support team add to the pleasure of using this product."
eRevMax vice-president – sales, EMEA and APAC John Seaton said: "RateTiger by eRevMax helps Tree of Life Resorts & Spa to manage distribution to an optimised mix of channels; the use of pooled inventory solution automatically decrements availability as bookings are converted, thereby ensuring no manual interference is required. In addition, they can improve online exposure and optimise revenue by reaching out to new markets through our Channel Ecosystem."
RateTiger from eRevMax is a fully integrated channel management and connectivity solution that entirely automates the connection between hotel inventory systems and distribution channels, regardless of business model, connectivity type or geography.
---
Image: Tree of Life luxury pool and spa villa. Photo: courtesy of eRevMax.
LaTour Hotels and Resorts, one of the leading hotel management companies in US, has partnered...