Service Tracking Systems (STS) is the inventor of BellDeskPro, a front service management technology designed to manage bell desk operations.
BellDeskPro manages and tracks bellmen, luggage valets, hotel guest deliveries, laundry, room service delivery and other hospitality related services. Installations include proprietary BellDeskPro software along with minimal hardware components and training.
STS's bell desk system has been proven to increase productivity and accountability whilst elevating customer service for front service operations around the world.
Bellmen task allocation system
Service tasks are intelligently dispatched based on first-in first-out order, task type and grouping. BellDeskPro smart technology recognizes multiple tasks that can be carried out by one bellman.
BellDesk<em>Pro</em> is a completely scalable open architecture application built in Visual Basic and powered by a robust SQL Server Database backend.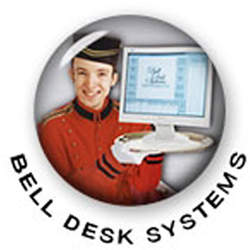 <em>BellDesk</em>Pro is one of Service Tracking Systems' core front services software products.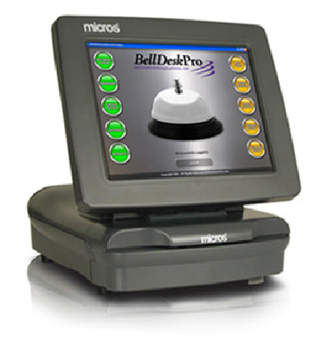 BellDeskPro terminal main menu is an intuitive user-friendly touch-screen interface providing quick access to all pertinent functions needed to track and manage all bell desk tasks.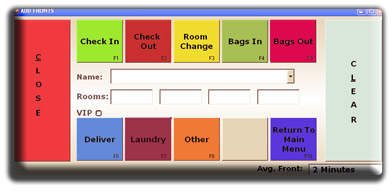 BellDeskPro Front Generator's input touch screen allows easy upload of service requests to the bellman queue.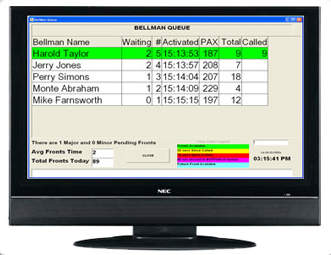 The Bellmen Queue monitor displays the available bellmen waiting for fronts; when a front becomes available, the bellman next in queue's name is highlighted in green.
The intelligent logic defines gradually expanding common areas in the hotel and can group tasks based on those parameters. Fronts can be assigned different priorities which would move, for example, a VIP delivery request to the top of the bellman queue.
Bell desk management
Bell desk management improves due to the transparency of each bellman's performance and accurate tracking and record keeping. BellDeskPro automates service task dispatch, eliminating the opportunity for "cherry picking."
Bell Captains can be alerted when certain parameters are not met, such as longer than average wait-time, VIP delivery requests, bellman man-power running below expected performance standards.
Productivity measurement tools can be used to identify under performers, which will ultimately reduce labour costs.
Hotel management system
Interfaces to hotel management systems, such as MICROS Fidelio Opera, allow guest last name look-up capabilities, and automatic check-in front generator. Room changes can be seamlessly dispatched to the bell desk queue.
Wireless mobile bell desk technology
In fast paced environments mobile technology can be applied in a well defined capacity to assist managers in receiving real-time operational information such as wait time, pending fronts, assigned tasks, and how many bellmen are in the queue.
Alerts to mobile devices can trigger managers when their attention is needed.
In the porte-cochere, wireless hand-held devices can enhance the arrival process with print-on-demand ticketing. An inventory scanner can be used to 'align' bags and bin numbers prior to a busy departure period.
Fronts can be dispatched via text message to the bell staff. This can be very helpful in lower volume environments where it may not be feasible to have dedicated staff monitoring the bell queue monitor.
Self-serve luggage delivery request kiosks
Self-serve luggage delivery request kiosks allow guests to initiate their bag retrieval and delivery by scanning their bar coded ticket number or looking up their last name. Delivery locations can be assigned near the originating request kiosks or to specified locations such as valet, taxi and limo terminals.
The kiosk input screen can provide feedback on the retrieval process, while managers can use kiosks to oversee their bell desk operation.
Guests can also request service through the dial-up request voice activated module by entering the claim-check number into an automatic voice menu system.
Bell desk systems
BellDeskPro has been installed in distinguished properties including the Borgata, NYNY, Paris Las Vegas, Bally's, Flamingo Hilton, the Rio, Mandalay Bay, Monte Carlo, Bellagio, Wynn Las Vegas and Atlantis The Palm Dubai.