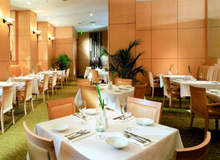 Let there be no doubt about it: green issues are here to stay, and they are no longer solely the domain of specialist ethical companies or hysterical doomsayers. In 2008 the question facing most international businesses, including hotels, is not why, but how, they will do their part for the environment and capitalise on a growing market of consumers who know the issues and spend their money accordingly.
Companies in nearly every sector are clamouring to earn the "eco" stamp, and key players throughout the hotel industry, which is slowly creaking into motion, agree that they should be no different. Despite the fact that many hotel chains have done little to implement sustainable business policies, there have been significant eco-trailblazers within the hospitality sector.
The Scandic hotel group has had sustainable policies in place since 1994. The efforts have shown results: between 1996 and 2006 Scandic reduced its fossil fuel CO2 emissions by 30%.
The hotel chain claims that each guest who spends a night has a 1.5kg-smaller carbon footprint, uses 35l less water and leaves 1kg less unsorted waste than ten years ago. Of the 23,000 rooms in Scandic's portfolio, 16,000 are eco rooms, which is to say that they are fitted out using 97% recyclable materials, use sustainable light fixtures and water taps, provide recycling facilities for guests and cut out the use of individually wrapped products.
"Companies in nearly every sector are clamouring to earn the 'eco' stamp."
But the key to significant change, says Jan Peter Bergvist, vice-president of sustainable business at Scandic, is educating all staff – from senior executives and department heads to every last member of the team.
This will ensure, for example, that the head of purchasing will source the most sustainable products and will know how to calculate their whole environmental cost, says Bergvist. "We train all team members based on an understandable framework," he explains.
"Our buyers ask suppliers not only to fulfill our demands but to come up with better sustainable solutions for what they sell us."
Scandic proves that it is possible to make headway with environmental practices without compromising fundamental standards or racking up unreasonable extra costs.
Scandic was the first hotel group to be granted a Nordic Swan eco label in 2004 and last year was given the sustainability gong at the European Hotel Design Awards, which Bergvist hopes will set the bar within the industry.
"Awards and celebrating best practice are important," he says. "Our aim is for other sector players to follow us and make the hotel industry a leader in the area of environment."
The lack of environmental benchmarks for hotels such as Building Research Establishment's Environmental Assessment Method (BREEAM) in the UK indicates how far there is to go.
"The fact that there are few benchmarks is a symptom of the problem rather than a cause," says Riccardo Rizzi, environmental director of Vivid Interiors, who sat on a panel discussion on environmental purchasing and procurement at the Sleep 2007 meeting. "It reflects a lack of awareness in the industry and a lack of drive to do anything about the problem," he says.
"Nobody's done research and little action has been taken. Hotels are about five years behind the commercial office sector."
Hilton Hotels got in on the game with the launch of its "we care!" environmental programme in January 2006, which encourages team members to identify opportunities for change and implement them. The first leg of the programme focused on energy and water use, with the goal of reducing energy consumption by 10% – or 11,000 tonnes of CO2 emissions.
Objectives on chemicals and waste are next to be introduced.
Practices taken up in international Hilton properties include reducing the number of times a toilet is flushed during room cleaning, donating organic waste to local farmers, using waste soap to wash team uniforms, replacing halogen lamps with energy-saving lamps, using unfinished water bottles to water hotel plants and installing more efficient cooling systems.
"The 'we care!' programme has dedicated management at all levels, but every team member is involved, which makes it a grass roots campaign," says Wolfgang Neumann, president of Hilton Hotels – Europe.
"As a result, we have a high level of awareness and support across all levels of our business."
Intercontinental Hotel Group (IHG) teamed with sustainability consultants in 2007 to develop a better understanding of its environmental impact and to set itself targets that will make a positive difference to the environment as well as benefit the business. The specifics will be laid out in its forthcoming environmental policy, due to be published this year.
According to David Jerome, IHG senior vice-president of corporate responsibility, hotels that use less materials and energy are cheaper to build and run, so make good business sense. IHG has also developed online forums where guests can communicate their green values.
Jerome adds: "This is not about hitting people over the head with the green stick; it's about delivering a sense of wellbeing, control and authenticity, and giving people choices.
"This is not about hitting people over the head with the green stick."
"Consumers are increasingly aligning their purchases with their principles, particularly when it comes to the environment. Pressure from a variety of stakeholders is shaping our approach," he adds.
But is the move towards official environmental policies in larger hotel groups making a difference, or is it more talk than action? Daniel Englender, director of furniture and equipment purchasing firm Benjamin West, says that only one or two hotel groups do genuinely good work on sustainability.
"Most just talk about it," he says. "As a company, we have had to create our own benchmarks and standards. Some of these hotel groups make a bold statement but in reality they haven't followed through. There is talk about buying in an environmentally friendly way without knowing what it means. Success will only happen when people believe in sustainability from the bottom of their heart rather than treating it as a marketing term that will help them sell a few extra rooms."
The consensus is that there is a long and winding road to travel before other hotel groups come anywhere near the environmental standards achieved by Scandic. Most are taking baby steps.
Wayne Latham, buyer for CampbellGray Hotels, says the move to become a fully environmentally aware operation is "a lengthy procedure", but the group has set the wheels in motion. Food served in its restaurants is locally sourced where possible, cutting its environmental impact.
CampbellGray has also taken measures to save water, use chemical-free bathroom products and guarantee that suppliers operate in a sustainable way.
"Any supplier we appoint would have its policies checked to see where it stands. This would be part of the tender process," says Latham. "But changes are not going to happen overnight. Unfortunately there are cost implications involved in this and the business must be able to sustain those costs. If there was no cost, everyone would be doing it."
However, others disagree that money need be a barrier. "There are no significant cost implications," argues Riccardo Rizzi. He says that sustainable procurement – including timber, recycled carpets, efficient taps, heating and cooling systems, furniture with recycled content, solvent-free paints, and natural rather than synthetic fabrics – must be considered at the design stage or when hotels turn over their stock.
"The environmentally friendly market is mature," says Rizzi. "Sustainable timber is relatively easy to find, as are energy-efficient light fittings. This is all commercially available – it's nothing crazy."
Rizzi estimates that 3-7% is the standard additional cost of "an ambitious environmental programme", although retrofitting would be a different story. "I'm confident that the hotel sector will come around eventually. The first glimmers of common sense are coming through," he concludes.
"Those who have seen the light will lead the way and everyone else will follow."