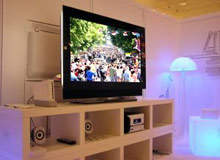 The hotel room has come a long way since the dawn of the mini-bar, from menus designed by nutritionists to e-butlers. The challenge for the hotel room of the future will be to create accommodation that addresses the individual needs of all guests, including business and leisure travellers, and those with specific needs such as the elderly and less able.
Just as important as entertainment gadgets will be new technology to keep guests in closer contact with their families.
The simplest technology is often the most effective, so watch out for new ways of using sound and light to help guests relax. However, even in the digitalised, virtual world of the 21st century, the old traditions of hospitality remain.
The guest still comes first.
Naildryer
The Tokyo Peninsula hotel's Fraser Hickox explains the thinking behind this gadget: "I noticed a lady leaving the elevator waving her hands in the air. She told me that she'd painted her nails but didn't have time to let the polish dry. Thus we incorporated a naildryer into each room."
Guestroom 2010
Demo room GUESTROOM 2010, built at HITEC, the Hotel Industry Technology Exposition and Conference, in 2008, showcased technology including a toilet that opens its lid when it senses a user's arrival, and picture frames that can be filled with artwork or photographs emailed by the guest in advance.
Remote-controlled candles
Remote Control Luminary Pillars by Flame Free Candles Inc use LED bulb technology to produce a realistic flame that gently illuminates the room, giving a romantic ambience. It's finally safe to light a room with candles.
Rocket man
Bigelow Aerospace, which has worked with NASA to develop space-based accommodation, has launched prototypes of its inflatable space hotel rooms that are slated to be open to the public in the next decade.
Bespoke view
A new concept in development at the Conrad N Hilton College at the University of Houston sees windows replaced by guest-selected, computer-generated scenes to create a more restful in-room environment.
Magnetic mattress and pillows
The Fortina Spa Resort in Malta has put together wellness rejuvenation rooms that include a magnetic mattress and pillows. Magnets respond to the body's electric and magnetic fields,helping reduce aches and pains.
Moving alarm clock
Clocky, the robotic alarm clock, may be irritating but he's fun. Waking up will never be the same again.
Pet loves
Nashville's boutique Hotel Preston offers guestrooms complete with goldfish, a pillow menu and lava lamps.
Digital peephole
With the First View Security Digital Door Viewer, when a visitor presses the doorbell outside the room, an expanded colour image is captured and displayed on a slick LCD screen mounted inside the room.
Breathe easy
At the Five-Diamond Pan Pacific Vancouver, the idea of getting a "breath of fresh air" takes on a new meaning now that guests can use portable oxygen canisters for an extra pick-me-up after a tiring journey.
In-room fitness equipment
The SLS in Los Angeles looks set to offer a beautiful and innovative venue including design by Philip Starck and in-room fitness equipment. The seven fitness suites are customised by leading Italian fitness-equipment manufacturer Technogym.
The big Apple
At City Inn rooms have integrated iMac multimedia business and entertainment solutions offering 38 television channels and 23 radio stations, and guests can switch between DVD, CD, and internet at the touch of a button as well as playing music on an MP3 player.
Nutritional balance
Many leading hotels, including the Bath Priory in the UK, have menus designed by nutritionists to enhance guests' health and diet.
Intelligent light form
A decade ago, a bathroom break in the middle of the night at the Hotel Shilla in Seoul became an almost Zen-like experience. When the bathroom light is turned on, it starts dim and gradually becomes brighter.
On being turned off it gradually dims again. No blinding light greets the guest's weary eyes and there's no need to stumble back to bed in complete darkness.
In the closet
The Ritz Madrid places monogrammed bathrobes in guests' closets prior to their arrival.
Armchair tourist
Explore the lie of the land without ever leaving your room. Virtual reality goggles that allow guests to take a tour of whatever amenities have been programmed into the system – from spa and restaurant facilities to local places of interest – have been developed by IBM.
Take it lying down
Even workaholics need some rest. Now you can pick up calls without having to find your phone or even raise your head.
The perCushion, currently in development from Urban Tool, is an ergonomic pillow-style cushion featuring a microphone, speakers and Bluetooth capability.
The love menu
Love Hotel Hill in the Shibuya district of downtown Tokyo offers a choice of themed rooms for couples who have a few hours to spare and need somewhere to go. Added to a tried-and-tested formula of gadgets are some less commonplace elements, such as an illustrated room service menu listing sex toys and schoolgirl costumes.
And also…
The Hyatt Regency San Francisco has recently launched customised wake-up calls, which allow family and friends to record greetings for newly woken hotel guests.
At The Rome Cavalieri Hilton, guests can choose from 15 soaps, 22 bottled waters and 16 coffees.
Not to be outdone by competitors, hotels in Las Vegas need to go the extra mile to attract tourists.The Palms in Las Vegas features an in-room basketball court, as well as a suite with a bowling alley.
The St Regis chain has added an E-Butler Service, enabling guests to remain in constant e-mail contact with their PDA-equipped butler.
The Hotel FOX in Copenhagen has dozens of rooms featuring the interior design work of a wide range of graphic designers, sculptors, photographers, animators and graffiti artists. One artist describes their room as a "flip-book in motion", while another describes hers as "the glorious, technicolour dreamcoat room, where rocking-horse people eat marshmallow pies".
On check-in at the citizenM at Amsterdam Schiphol, guests are asked to enter their preferred lighting, music, temperature and alarm settings. The room is set to those preferences.
At the JW Marriott Hotel in Washington, 32in split-screen TVs let guests surf the net while they watch.