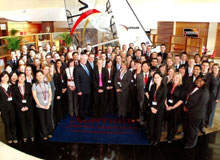 The hotel industry's struggle was one of the first indicators that trouble was brewing beyond the sub-prime mortgage sector. And it could very well be one of the last industries to feel the pinch from the recession that has gripped parts of the western world. It started in Spain, where the tourism industry put a dampener on the nation's summer fun by saying hotel operators had been hit hard by cash-strapped Brits choosing to stay closer to home. Now, it exists in most nations where populations and businesses have starting opting out of travel in favour of lower-cost options.
The big hotel chains have been announcing 2008 Q4 losses, despite dropping prices and shedding staff to help overcome the credit crisis. Marriott Hotels, for example, recently announced a Q4 loss of $10m due to its restructuring and a loss of revenue due to decreased customer spending. The year before Q4 had provided Marriott with a $176m profit.
But despite all this, Marriott does see a silver lining in future clouds that, for those unprepared, carry a threat of irreparable damage as foundations are rocked and finance bridges burned.
The next generation
Marriott says it plans to open 57 new hotels in Asia over the next two years to meet anticipated growth in China and India. And while it has cut costs in administrative spending and closed its less-productive sales offices, it is still pinning its hopes on budding new future leaders which it says could very well help give the hotel chain an edge to weather the storm.
The next generation is already waiting in the wings and, unlike with other costly hotel recruitment and in-house training schemes, they will come at less of a cost in the long run thanks to an extensive hands-on approach to training that involves mentors, recruitment and ongoing career development.
Marriott UK director of talent acquisition Matthew Ruck says Marriott's training programme has helped the chain increase its talent pool. At a time when other companies are cutting back due to the cost of recruitment, Marriott could find itself ahead with the cream of the crop to choose from, and a recruitment programme that is already in demand and maturing to a new level that is achieving worldwide interest.
"There is little doubt that 2009 is going to be a tricky year for anyone in the hospitality industry due to people's inability to travel, especially in the four-star end of the market," Ruck says. "Of course we will only advertise critical positions during this time and this means we could see some courageous use of our current workforce. But we know already we will be expecting to run business at slightly lower costs while expecting service to be maintained. Our staff will be crucial, along with our training programme which we view as being 'recession proof'."
"We know that if we don't recruit graduates now we will suffer in two years' time when the market turns again and new hotels start to open up," Ruck says. "The benefit is, at this point in time you can get more competition for fewer positions, which drives high quality which can only be a good thing in the end."
The Marriott 'Voyage' to the top
The Voyage training programme annually accepts what the hotel views as being some of the best graduates on offer in the area of operations, human resources, sales, revenue and finance. It puts them through a rigorous in-house training programme that, in some cases, could see new recruits take on management roles in a matter of months.
The idea itself around in-house training is certainly not new. Marriott has, however, altered the way it runs its course to cut out the middle man, so that graduates deal with Marriott every step of the way. It also uses its key staff for training and mentoring to ensure Marriott 'ethics and understanding' are embedded in lessons learned, from forward-facing roles to back-office jobs.
"The Voyage programme really does encourage you to push yourself, to really launch yourself forward"
By the end of Q2 this year, 80 graduates will start training as Marriott UK's newest future leaders. Similar programmes will also be held in Ireland, the Middle East and Africa, where high-quality results are already being achieved.
"As a business, we have now started to get a reputation for the internal recruitment work we do. Instead of putting heavy expenditure forward for external training, we work each recruit through the ranks with the help of management staff we already have– doing it this way means the cost savings can be huge, and the quality of staff great," Ruck says.
"None of our graduates are in a low position for very long – in the first year they will all work their way up into a supervisory role and ideally a management role, even if it is just a junior manager. How fast they do that depends largely on the individual."
Ruck personally goes on the campaign trail for a number of months of each year for Voyage. He visits leading universities and hospitality schools to outline the programme and its worth to graduates. He puts candidates through a tough four-stage testing process which includes CV scans, interviews, assessments and final interviews with a number of Marriott's head staff. He has also set up one of the industry's most widely used recruitment websites – a move that has further brought Marriott's overheads down.
Once graduates have made it through the door, they then have access to the fast-track training that includes three residential workshops lead by Ruck and a professional trainer looking at effectiveness and leadership development. They also receive their own Marriott manager as a mentor who will guide them through the ranks as well as access to Q&A panels with regional business leaders, graduate events with peers and a live business project. The project is their initiation to Marriott and must meet needs identified by the Marriott management team.
"Each graduate essentially gets to leave their own legacy on the hotel and chain before they move into their next opportunity," Ruck says. This is one of the main attractions for career-savvy hotel staff.
Reaching the upper echelons
Kate Butler started on Marriott's Voyage programme in May 2006. She now works as assistant director of finance for two of Marriott's UK hotels.
She first came across the Marriott graduate training programme when Ruck introduced the idea at a talk during a visit to her university. Having studied hotel management and marketing, Butler says she was impressed by the enthusiasm Marriott seemed to have towards graduates and their product. "It was that real belief that they were really looking for future leaders that impressed me," Butler says. "As with every hotel programme, training was on the job but Marriott consistently ran workshops for all graduates and provided the core training required to become a manager."
Within a year she reached her current position, with the skills she said were required to carry out the challenging role. "I started as a finance graduate in a cluster office and worked my way up," Butler says. "It didn't take long before I had developed the confidence, tools and knowledge required to grow – the programme really does encourage you to push yourself, to really launch yourself forward. If you are ready for the next level of professional development they won't hold you back just because you are part of the training scheme. Marriott is of the belief that it wants to get talent into its business and it wants to retain it, hence it is consistent with its approach."
"There is little doubt that 2009 is going to be a tricky year for anyone in the hospitality industry."
Fellow graduate Eamonn Casey only took a year to reach the position of director of restaurants at the London Heathrow Marriott Hotel. The 26-year-old completed his course in 2007 after finishing a degree in international business and hotel management in Ireland.
Starting as a food and beverage supervisor, he undertook a range of sales-driven and managerial projects which he says gave him a valuable insight into how different operations at Marriott work, from the ground up.
"I was attracted to Marriott because it is one of the largest hotel groups in the world and I knew it had an excellent reputation," Casey says. "Whilst hard work, it was a wonderful experience and great insight into how the food and beverage department work."
For both graduates, the lure of working for an international company with a growing portfolio around the world only added to the long-term benefits such training can bring. Ruck says the Marriott ethos is the same at each hotel, and learning the practices from inside only helps create rounded individuals that can offer skills to the entire chain, not just the Marriott where they trained.
And with 57 new hotels on the cards in the coming years, graduates are sure to share their skills around the world, as well as help one of the world's biggest hotel chains reach continual success.