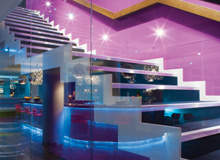 Rosita Missoni likes the elevators in the hotel she designed. "It is like arriving in a Missoni world, a world of colour, a world of pattern," says the 77-year-old designer, who founded the Italian fashion brand Missoni with her husband Tai.
Rosita has taken time away from the frenetic whirlwind that is Milan Fashion Week to talk about her first foray into the hospitality industry. "We are considered, among the fashion crowd, hospitable people," says Rosita.
"We care about the way we entertain and making people comfortable. All these virtues could have been realised in a hotel."
Known for its graphic knitwear, Missoni entered a joint venture with Brussels-based hotel group Rezidor in 2005 to develop a new chain, Hotel Missoni. The first property, a 136-room hotel in the Scottish capital Edinburgh, opened in June.
Rosita was creative director, working with Rezidor executive vice-president brands, Gordon McKinnon. There are several more on the horizon.
A 169-room hotel is opening in Kuwait City early next year, to be followed by up to 30 hotels in destinations from Brazil to Oman and Cape Town. "They will all be different but the concept is always the same," says Rosita, who has just returned from Cape Town; "a beautiful place, a jewel."
"We care about the way we entertain and making people comfortable."
The Missoni Hotel creative director is happy with the result. "Our aim was accomplished: to have a welcoming hotel where people, including Edinburgh residents, would find a meeting point that was not overpowering but comfortable and functional," she tells me.
Rosita and her husband have already stayed at the hotel, in a suite and a bedroom. "His room was looking on the castle, which was fantastic," she says. "It is like a little fairytale."
The city was a perfect location for Missoni. "Edinburgh was the first offer we received," she says.
"The location was superb, and it was a nice place to experiment and see if we were capable of transferring our strong identity into a hotel."
Passionate and determined, Rosita sees Hotel Missoni as a natural progression from her ready-to-wear and home textile design. She heads up the MissoniHome collection, creating a range of tableware, fabrics and soft furnishings, all decorated with Missoni's trademark florals and stripes.
Rosita is full of energy. A decade ago she retired as head of the fashion house, handing over the reins to her daughter Angela, half a century after she founded it.
Rosita currently spends most of her time at the Missoni headquarters outside Milan where the family home is.
Rosita says she wanted Hotel Missoni to embrace the traditional Italian family values of warmth and hospitality, which the Missoni family is known for. Rosita knows what she looks for in a hotel.
"My husband, children and I have been travelling for a lifetime on business or pleasure and we have stayed in many hotels," she says. "I need to be welcome in a hotel, but comfortable. I hate pretentiousness."
Designed by Allan Murray Architects with Milanese interior designer Matteo Thun and Partners, Hotel Missoni is located in a sleek, conformist building in Edinburgh's Old Town in a prime location on the corner of George IV Bridge and the Royal Mile. "Rezidor was interested in finding a fashion brand that would like to join them in this hotel venture and Thun suggested us as we have known him for many years and he knows exactly what we are about," says Rosita.
"Besides that we have a very strong home collection, so when Kurt came and talked to the whole family, my children and I thought it would be a very good showcase for that."
The exterior might not overtly reflect the brand, apart from the logo on one side of the building and the irregular arrangement of the windows. But inside the experience is pure Missoni, showcasing the fashion house's patterns, textures and colours.
While reflecting its Scottish location, the interior draws inspiration from nature, Europe's modernist art and Italian futurists. "The hotel is a natural extension of the brand," the designer says.
"It's subtle glamour. Nothing imposing or shocking."
The rooms continue the black-and-white palette seen throughout the property and are animated with bursts of colour. Each room has an en-suite bathroom that epitomises Italian design.
Even the toiletries have been specially created for the brand and are scented with a Missoni fragrance.
The project was a family affair and involved Rosita, Tai and their children Vittorio, Luca and Angela. In each room you will find one of Tai's iconic black-and-white zigzag etchings.
On the ground floor bar, hand-printed moon photographs hang on the walls. Angela designed the hotel's logo.
The lobby of Hotel Missoni features two large mosaic vases: "We did not want to have a big sign but just to let people passing by know that they are in front of a Missoni, so we chose these huge vases to give an idea of our patterns."
Missoni's signature bold use of colour and striking patterns gives a cool, contemporary energy to the hotel's public and private areas. Colour is key.
"We are known for our colourful patterns but we didn't want to use too much on the fabrics, so we chose the black and white as the main base for our patterns." While the hotel was being built, the team constructed a mock-up room in Milan.
"We thought that to have black-and-white rugs, curtains, a silver bed and headboard was a very good base to work with colours," she says. "We can't live without colours so we painted the walls and chose a palette of hot pink, red and green, which we put on the wardrobe, the tables and the desks."
The rooms have MissoniHome fabrics and prints of past ready-to-wear collections. "I don't like flowers in bedrooms," says Rosita.
"Nobody wants to have the same flowers that the person who has just left has enjoyed." So she put the flowers on the patterns.
Missoni patterns cover everything from windows to bathrooms without being overwhelming. The result is simple and unpretentious but glamorous.
The floors are oak. Rosita dislikes carpets – "I like freshness and cleanliness."
The design takes its details seriously. "I wanted the guests to have good bedside lights," says Rosita.
"My husband and I like to read in bed but we always fight with the bedside lights. If you don't feel comfortable in your own room, where can you feel comfortable?"
"I need to be welcome in a hotel, but comfortable. I hate pretentiousness."
Rosita chose the furniture, which combines traditional with ultra-modern. "It's a quirky mix of furniture," she says.
"It looks the way my homes are done." Rosita loves the Scottish architect, designer and painter Charles Rennie Mackintosh: "A designer I adore," she says.
"I had to have some specimen of his work there so we have the revolving table, which is the breakfast table in the restaurant." Mackintosh's use of design has inspired Rosita since she was young.
Elsewhere Mackintosh's Ladderback Chairs sit with curvy, inviting sofas by Antonio Citterio for B&B Italia and Hans J Wegner's Wishbone Chairs: "I have those chairs in all my dining rooms here at home in Milan and Sardinia. All my family are happy when they sit there."
For the hotel's dining, Rosita chose celebrity chef Giorgio Locatelli to head up the kitchen for the Cucina restaurant. From the same part of Italy as Rosita, Locatelli created a seasonal menu that drew heavily on local produce.
As you would expect, china and glassware come from the Missoni homeware range. Located in the lobby of the hotel, Bar Missoni can hold 50 people.
Hotel Missoni is already becoming a meeting place for Edinburgh locals. "I hope it will turn into a city hotel," she says. "I don't like the term 'fashion hotel'."