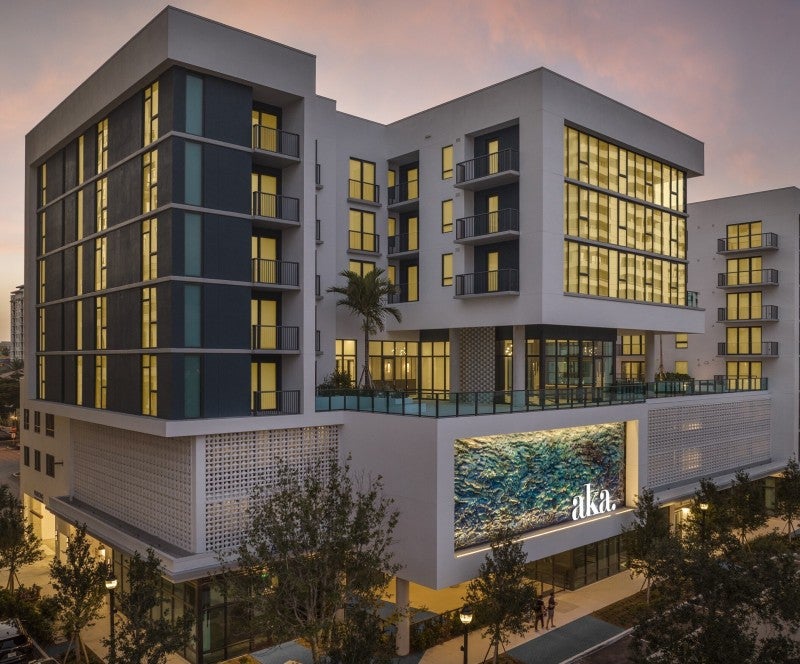 Luxury hospitality company AKA has announced the date of opening of AKA West Palm, its second property in South Florida, US.
Located at 695 South Olive Avenue, the five-story property for weekly and monthly stays is slated to open on 1 December.
AKA West Palm is located next to Rosemary Square, an events and cultural arts hub and is within walking distance from the Clematis Street, which has gourmet dining and luxury retail destinations.
The property is designed to meet the requirements of different types of guests such as business professionals, and leisure travellers, as well as long-stay for West Palm residents.
AKA West Palm features 215 brand-new hotel residences including studios, one- and two-bedroom accommodations, and Penthouse suites.
The property offers en-suite amenities such as sleek kitchens, washers and dryers, and private terraces.
Guests will have access to indoor/outdoor lounge and bar, a resort-style pool and deck, advanced Technogym.
AKA West Palm also boasts a private, and convenient conference space for up to ten people and the brand's first-ever dedicated pet spa.
The hotel will welcome two restaurants The Blind Monk and Egg Bar in 2023.
AKA CEO Larry Korman said: "With an influx of visitors from the Northeast, we are already seeing interest from travellers familiar with the AKA brand and our properties in New York City, Philadelphia, and Boston.
"As West Palm's reputation as 'the Wall Street of the South' develops, we are confident that those who are traveling for work will be delighted to make a home away from home at AKA."