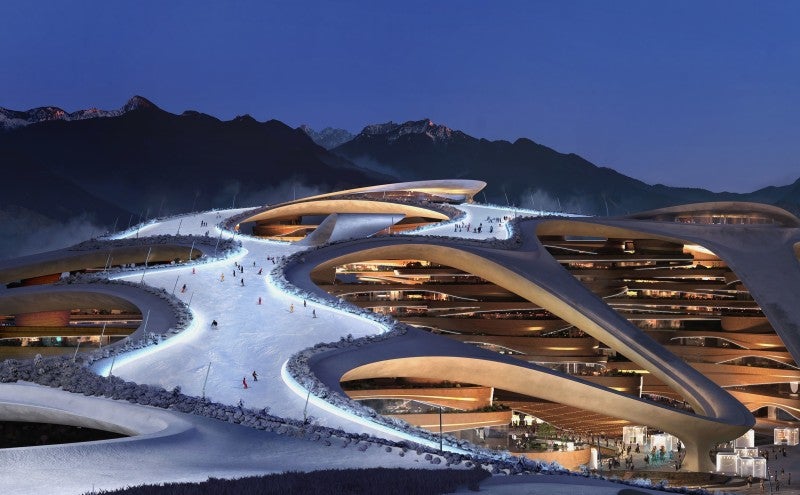 Hotel Development, the hospitality division of Saudi giga project NEOM, has signed a deal with Ennismore for two hotels in the mountain tourism destination, Trojena.
As part of the agreement, Ennismore will open two of its brands, 25hours Hotels and Morgans Originals in Trojena.
Designed by 25hours team, with founder Christoph Hoffmann and Berlin's Studio Aisslinger, the new 25hours brand hotel will be inspired by a futuristic architecture and will include nods to science-fiction movies.
The hotel will boast an in-house cinema, a farm-to-table restaurant, a bike workshop with co-working, as well as a rooftop restaurant with pool.
Ennismore's Morgans Originals hotel in Trojena will house four dining destinations, a 2,000m destination spa and bathhouse, a ski slope roof and rooftop pool bar.
In addition, the hotel will feature an eight-storey vertical core with its own microclimates and immersive art experiences.
NEOM Hotel Development executive director Chris Newman said: "Our partnership with Ennismore echoes our mission to pioneer in the space of experiential hospitality in a way that shapes the future of hotels in the Kingdom and beyond.
"With a shared passion for developing differentiated and imaginative hospitality concepts, we look forward to seeing this relationship – and others like it – flourish."
The companies have not disclosed additional details including the opening date for the two hotels.
However, NEOM said that initial enabling construction works have started in Trojena, with the main construction slated to commence at the end of this year.
Ennismore co-CEO Gaurav Bhushan said: "25hours Hotels and Morgans Originals are lifestyle brands rooted in creativity, bringing design-focused spaces and authentic culinary experiences, creating deep connections with our guests."