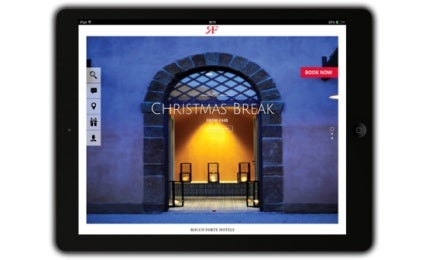 Neorcha enables hotels to deliver best-in-class customer services via its unique mobile platform. Customers can interact easily and seamlessly with hotel brands anywhere, anytime and on any device.
Mobile management software for the hospitality industry
Hoteliers use the Neorcha platform to manage customer mobile experiences across their entire IT landscape, with deep and seamless integration with systems such as customer relationship management (CRM), property management (PMS), central reservation (CRS), and point of sale (POS).
Neorcha's platform is deployed quickly and easily, and includes Neorcha myHotel, Neorcha myCheck-in, Neorcha myDining and Neorcha myShowcase.
Tailor-made guest services technology for hotels
Benefit from improved guest service, increased customer satisfaction and greater guest loyalty with Neorcha technology.
Differentiate your hotel business and gain the competitive edge with a unique Neorcha Mobile experience, built and integrated exclusively for you.
Neorcha works with clients to create efficient and cost-effective systems to revolutionise the end-to-end customer experience.
Guest room booking for mobile devices
Neorcha myHotel application revolutionises hotel customer experience.
myHotel app is quick and easy-to-use and able to drive additional hotel bookings and revenue. Enhance customer experience while reducing acquisition costs, as users are less dependent on online travel agencies.
Neorcha myHotel makes trip planning simple and accessible from the guest's mobile or tablet, enabling them to customise their trip and change it on the move.
In addition, hotels can streamline their in-house customer experience with Neorcha's Guest Services Module, which links the concierge and guest services with their devices. They can book taxis, request room cleaning and additional facilities from the restaurant, by the pool, or anywhere there is access.
Hotel check-in mobile app
Transform guests' check-in experience with Neorcha myCheck-in.
Neorcha myCheck-in is designed with customers in mind and can add value to a hotel business by:
Allowing guests to be immediately engaged in the process
Reducing or eliminating queuing time and making check-in quicker as there is no need to wait in line for a receptionist
Enabling employees to leave the reception and join front-of-house to warmly welcome customers
Providing a true VIP experience: move from business to first class without the price tag. Not only can your staff devote their full attention to guests, but they can create an experience based on their history, from the welcome drink they prefer, to the time of their wake-up call, and newspaper. You can even check when their flight has landed thanks to the alert functionality that can connect airport staff to your hotel staff
Minimising printing and other administration tasks, as documents and files can be held on the software system
Digital dining and menu services for hotels
Offer your guests a seamless digital dining experience with Neorcha myDining app.
Neorcha myDining can add significant value to businesses as the food service app allows hotels to present their dishes using high-definition digital photography to create product galleries that showcase presentation and quality.
myDining can even pair wine with suitable dishes to help ensure food and drink are perfectly matched.
Using a mobile app links your kitchen to each customer to speed-up order processing and minimise incorrect orders. Printing costs are reduced or eliminated.
There's no need to brief printers, check for accuracy and spend a great deal of time updating menus; when you want to change your offering or if an option becomes unavailable during service, simply remove it from the system
myDining is an efficient content management system that enables hotel's to up-sell slow moving items and highlight higher margin ones. Revenues can be increased by creating promotions, specials and chef recommendations, as well as enhancing their presentation using creative content such as chefs' comments, blogs and customer testimonials.
The myDining tool integrates with other hotel software systems, lowering the effort and time needed to configure them and eliminating manual workarounds.
Online showcase for hospitality companies
Neorcha's myShowcase app enables hotels to present their establishment in a multimedia format, bringing the experience to life.
With Neorcha's myShowcase, you can portray a powerful and professional brand that's an extension of your guest experience and demonstrates your unique selling points.
Create powerful presentations for potential guests and clients that can include interactive maps and photo galleries. Total flexibility means you can create tailored showcases by client type, for example, corporate and business experiences and events, weddings, group events and individual package experiences.
myShowcase is a highly functional app that allows hospitality companies to:
Create user-friendly content that is easy to navigate and provides a seamless user experience
Use a single design framework for all of their properties and include information that updates dynamically, including dining, entertainment, meeting and events
Plus-up the selling process with direct access to online prices in real-time
Get direct access to accounts to check customer purchase histories
Hospitality technology solutions provider NEORCHA promotes the benefits of beacon technology to support hotel services.
In the competitive hotel industry, hoteliers strive to identify ways to enhance guest experiences.
City Premiere Hotel Apartments in the UAE has partnered with leading technology solutions provider for the hospitality sector, Neorcha, to deploy the myHotel App across the group's five hotels in the UAE.
Neorcha
300 Route des Cretes – CS70116
06560
Sophia Antipolis Cedex
France
Neorcha ME DMCC
Unit No. 3O-01-2041
Sheikh Zayed Road
JLT
Dubai
United Arab Emirates