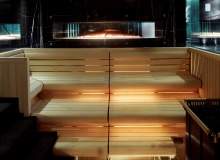 The spa model typically favoured by the hotel industry has changed considerably in recent years, with operators moving beyond traditional beauty and relaxation treatments in favour of more holistic methods. In the past, healthy food and exercise were seen as the main barometers of overall well-being, but a guest visiting a hotel spa today is able to take advantage of an array of treatments, including those with a spiritual, emotional and even medical focus.
With consumers more knowledgeable about what the spa industry has to offer, expectations are high, but are hotels doing enough to meet the challenge?
Anne Biging, founder and CEO of Healing Hotels of the World, thinks guests want a more meaningful experience when staying away from home. "People don't just go on holiday," she says, "they want something more. Humanity has never been so prosperous but still so completely stressed out, and people are seeking a safe haven."
In practical terms, this means more than luxury accommodation with a few spa treatments thrown in. "When a guest comes to stay at a Healing Hotel, they can take advantage of a tailored programme that covers everything, including healthy cuisine, fitness and well-being," continues Biging. "We all want to feel better – the question is how do we get there?"
All in the mind
Wellness has evolved from being only a physical dimension of health
At Starwood Hotels and Resorts, which currently has 350 spas in operation and over 125 in development, a similar approach is taken. "Wellness has evolved from being only a physical dimension of health," explains Jeremy McCarthy, director of spa development, operations and marketing. "Today's programmes incorporate aspects of psychological well-being." This covers areas such as mood, emotion and mindset, as well as sleep, rest and recovery.
A visit to a spa is no longer considered a female-only experience, either. "While women still make up the majority of spa-goers, they are now just as attractive to men, who enjoy the facilities and therapeutic massage services," he adds.
One spa that really embodies the principles of holistic well-being is ESPA Life, which opened at the Corinthia Hotel London in July. The new development offers a fully integrated wellness concept alongside a luxury spa experience, and guests will be able to take advantage of an extensive repertoire of treatments. Spread over four floors and covering 3,300m², the purpose-built facility is home to a range of holistic health professionals, specialists and therapists, offering both lifestyle solutions and spa treatments. "We have brought in the best of the best of spa and wellness, and fitness," says Susan Harmsworth, founder and CEO of ESPA International. "It offers everything from personal training and post-injury rehabilitation to nails, waxing and hair, all under one roof."
With guests much more aware about the variety of treatments available, there is a clear challenge for the hotel industry to meet, however. "All our spa directors talk about the rising expectations of the consumer and the need to provide the highest levels in order to be competitive," acknowledges McCarthy. "Guests are looking for the best value for money." Unsurprisingly, quality of treatments and high standards of service are key areas for Starwood.
Getting it right
However, not every hotel will benefit from a spa, explains Harmsworth. "Every hotelier thinks they need a spa, but I don't necessarily agree," she says. "Spas are quite difficult to make money from, and unless you're going to do it well, don't do it at all. Consumer expectation is high, and a few treatment rooms around the pool will not be enough." It is also essential to look carefully at all aspects of the spa business. "Many hoteliers spend a fortune on capital build cost and then scrimp on training and staff retention," she adds.
While some hotel groups are adept at delivering a high-quality spa experience, it seems others have a long way to go. "It is interesting how some very well-known brands will invest in a spa and then let it sit there, without paying attention to it," continues Harmsworth. "Today's guests expect highly professional treatments, and this is much harder to deliver than it may seem. The hotel industry is very comfortable with food and beverage, but not spas – they don't understand how they can make money."
It is interesting how some very well-known brands will invest in a spa and then let it sit there, without paying attention to it.
Staff training is also essential if a spa is to be successful. "A hotelier may think that having therapists with basic qualifications is enough, but they would not take the same approach with their chefs," says Harmsworth. "Therapists have to deal with a wide range of situations, including touching bodies, psychological conditions, problems and emotions – it can be a difficult relationship. Expectations are high and many hoteliers are not investing enough in training and spa management."
Training is an important focus for Starwood. With fast-paced expansion plans underway in Asia, the operator has often been the first international brand to appear in an area. McCarthy identifies recruitment and training of appropriately qualified managers and treatment staff as one of his biggest challenges in these markets.
For Starwood, each spa is an extension of the hotel in which it is located, and the company has created separate concepts for each of its main brands, including Heavenly Spa by Westin and Shine Spa for Sheraton. In the last five years, it has opened more than 50 of these branded concepts, and 70% of new projects in the group's development pipeline will feature a spa. "We know that consumers have come to know and trust our brands around the world," adds McCarthy. "Each has a unique positioning and we want the spa to cater directly to that guest demographic."
Future trends
The spa concept is constantly changing and evolving, and the current holistic approach is likely to become more mainstream in the future, thinks Biging.
Personalised treatment programmes will also grow in popularity, she continues. "Evidence-based treatments are in very strong demand," she says. "There are some amazing new technologies coming up, including a programme where guests complete a prediagnosis survey online before arrival. Once the guest arrives, a fixed programme will already be in place."
In future, the spa industry will also focus on developing its green credentials, thinks McCarthy. "Our consumers are interested in lightening their load on the planet," he explains. Starwood has announced aggressive sustainability goals, and has pledged to reduce electricity usage by 30% and water consumption by 20% by 2020.
In future, Harmsworth expects the concept of wellness to continue influencing the spa industry, but she believes that hotels must work harder in order to provide the type of treatments that guests are looking for. "Wellness is a big issue – everybody is talking about it, but it is easy to underestimate how difficult it is to deliver," she warns.
However, if operators can successfully deliver the high-quality experience that customers want, the hotel spa could become an even more lucrative revenue stream for the industry.