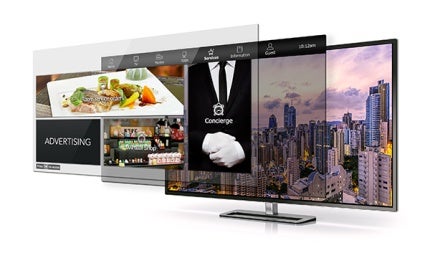 Entertainment Solutions designs pioneering platforms to provide the latest IPTV and VOD technology to clients in the hospitality sector. The company created software tools such as INGEsuite, INMOpack and BEIPtv as the main modules of the ES hotels platform.
Entertainment Solutions (ES) integrates a highly experienced engineering team that supports research and development and worldwide hotel solutions deployments. The company's mission is to support hotels in offering the best guest experience through employing the most advanced technology in entertainment and service-orientated systems.
Tailored hospitality concept services
Entertainment Solutions concept services enable hotels and resorts to become better places, ensuring that guests are integrated into the hotel environment. ES has deployed tailored solutions for corporate and public environments across five continents.
The company's wide-ranging experience in the hospitality industry allows hotel managers to customise their guest services, public information, events organisation, personalised guest messages, city / room services commercialisation, people requests collection and contents for children. Customers define their issues and requirements, and Entertainment Solutions works with them to make their vision available to guests.
Technology partner for secure hotel networks
Experts in IPTV Solutions for the hospitality market, Entertainment Solutions deploys flexible and modular solutions to meet each hotel's in-room information and entertainment requirements.
ES improves guests' experiences with new services and contents, while at the same time providing hotels with tools to support hotel branding and new revenue generation tools to enhance current network infrastructures.
Excellence is Entertainment Solutions' engineering objective. The company ensures the highest level of security and reliability in all their solutions, including:
Modular and plug-and-play platforms to select services that meet project requirements
100% scalable from one single user up to thousands, from one hotel up to several hotels or resorts, all under the same user-friendly management system
Highest flexibility and interoperability to ensure integration with the existing equipment and technologies (in-room control, PMS, POS, BMS)
Communications technology packages
Entertainment Solutions is focused on the hotel technology market but the company's flexible solutions have been directly involved in projects worldwide, together with public and private research partners, small and large firms, financial intermediaries, schools and universities, as well as local / state / federal agencies. Their extended networking capacity has established a long-term collaboration network and a proven know-how.
Entertainment Solutions' platform enables highly reliable communication with citizens, with a user-friendly interface. Hospitality managers, telecom operators, corporations, educational or leisure organisations, town hall officials could provide innovative and personalised services with the highest quality of service and in a very reliable way.
Thanks to the IT infrastructure evolution in different countries, modern information society is evolving the kind of services that can be deployed to the massive market, allowing final users to have premium contents accessible in certain places and restricted versions in areas where internet is available.
Hospitality TV for hotels
Entertainment Solutions strives to make hotels a better place. Some of the company's hotel projects include:
Marriott Reinasance Barcelona Hotel, Spain
Hilton Panama Hotel, Panama
Banyan Tree Al Wadi Resort, United Arab Emirates
Ayada Maldives Resort, Maldives
Golden Tulip City Center, Tánger, Marocco
Vladimir Putin Residential Palaces, Russia
Spanish Royal Family Palace, Spain
Sheikh Palace, Qatar
Muamar El Gadafi Palace, Libya
Shahdag Palace, Azerbaijan
In addition to hotels, Entertainment Solutions has also undertaken projects to improve services and comfort in hospitals, buildings and cities, including:
MD Anderson, Spain
Hospital da Guarda, Portugal
Sanitas La Moraleja, Spain
Sanitas La Zarzuela, Spain
Hospital Bellavista, Puerto Rico
EPHAD Carcassone, France
Hôpital Villiers Saint-Denis, France
Doctor's Center Hospital, Puerto Rico
Asfadar Hospital, Senegal
Ricardo Bermingham, Spain
Skolkovo School of Management, Russia
Zayed University, United Arab Emirates
ABM Military College, Qatar
Ecole Supérieure d'Hôtellerie et de Restauration, Argelia
Port Aventura Amusement Park, Spain
San Mamés Barria Football Stadium, Spain
Fenerbache Ülker Sports Arena, Turkey
Caja Mágica Tennis Centre, Spain
Sonangol Headquarters, Angola
Agencia EFE Headquarters, Spain
About Entertainment Solutions
Entertainment Solutions is an IT company based in Spain with its headquarters, research and development and operations centre located in Zaragoza. The company has commercial services in Madrid and branch offices in Dubai and Panama City.
In 2007 the first European hotel supporting IPTV chose Entertainment Solutions. Today, ES has a worldwide presence through its partner programme and is the market leader in several countries across Europe, Africa, Asia and Latin America.
ES annually invests 40% of its benefits in research and development, as a clear commitment to customer needs and technology evolution. In recent years, a sustainable growth of more than 40% guarantees the availability of thousands of service points in different hotel premises.
The Spanish Chamber of Commerce has recognised Entertainment Solutions international projection by awarding the company the Export Award 2013.
Entertainment Solutions offers modular software platforms for hotel room TVs that can be customised to provide efficient, secure guest services.
Entertainment solutions offers a variety of entertainment, advertisement, and information solutions for hotels.
Entertainment Solutions customises solutions for in-room TV, video on demand, high-speed internet and digital signage, as well as many other communications tools. Download the free brochure for more information about Entertainment Solutions.
Entertainment Solutions has announced the company's latest news for July.
Entertainment Solutions has released the company's latest news for June.
Entertainment Solutions has released the company's latest news for May.
Entertainment Solutions (Spain)
Parque Empresarial Miraflores, Nave 3
Ctra. Castellón Km 5,25
50.720 Zaragoza
Spain
+34 976 366 216
Entertainment Solutions (UAE)
PO Box 115115
Dubai
United Arab Emirates
+971 509 033 456
Entertainment Solutions (Panama)
Via España, Edificio Braña, Of. 1.
Ciudad de Panamá
Panama
+507 6963 6468