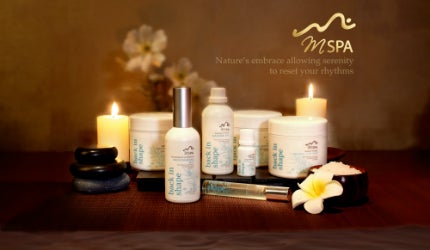 Harness the rejuvenation power of plants from the nature of the universe. M Spa believes the power of nature ever since its presence and invites you to experience the unity of nature and individuals.
Natural essential oils used in M Spa collections are supplied by an experience essential oil extraction company with more than a hundred years of history in the industry. The aromatic ingredients are derived from continental Europe to the ancient Oriental civilization and philosophy in order to offer you top quality, complex, original products of natural origin.
The wonderful world of spa traditions, M Spa International collection includes five themed products to suit your needs. The revitalizing aroma of geranium and rosewood comfortably sets you in a peaceful mind, soothes your soul and refreshes your senses. Blended with orange and lemon extracts rich in essential vitamins, and a touch of rosemary to promote metabolism of cells, your skin will be nourished and your spirit will be uplifted. The collection includes:
Mommy's helper: a perfect sweet floral blend to restore harmony
Positive soul: a woody oriental blend to aid meditation and deep calming.
Energy booster: a refreshing blend to tone and anti-fatigue
Back in shape: a green fresh blend helps purifying body and mind.
Peaceful mind: a herbaceous floral blend to drive away depression.
Each series features seven products including:
Natural clay mask 250ml: composed of aged volcanic ash known to detox skin by drawing out poisons and impurities. Rich in nutrients and minerals, it results in healthy, younger looking
Massage cream 250ml: blended with premium essential oils to awaken skin energy, creating a safe and refreshing experience
Natural body scrub 250ml: fine grinding particles exfoliate dead skin cells and aging cutins while an natural blend of premium essential oils makes skin silky soft and gives a radiant, healthy-looking
Essential oil 10ml: selected French high quality essential oil, deeply nourish and condition skin to restore skin with smoothness and elasticity
Massage oil 100ml: blended with premium essential oils and fatty acids to provide effortless glide, workability and relaxation, leaving it beautifully smooth and hydrated
Mood enhancing mist 100ml: blends premium essential oils renowned for its soothing, cooling effect with Provitamin B5 for its restoration quality
Roll-on 15ml: selected French high-quality essential oil, deeply nourish and condition skin to restore skin with smoothness and elasticity
Nourishing and fragrant, Baronessa Cali skin and body cosmetics merge ancient homemade recipes with high-quality...