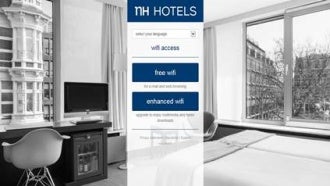 NH Hotel Group has put its guest internet experience on a new footing. During the past months, more than 220 NH properties across Europe have been fitted with the Swisscom Internet Gateway to support much higher numbers of users and streamed data. Guests also benefit from a more intuitive login process and the automatic recognition of their devices across the chain footprint.
NH has experienced a heavy increase in the demand for Wi-Fi services. The data volume transferred upstream and downstream on NH's data networks has more than doubled over the past 12 months, while over half of the devices going online are smartphones and tablets.
In response to these developments, NH is doubling the bandwidth levels for both basic and premium connectivity chain-wide. Swisscom has performed network audits and runs a dedicated network improvement programme for all NH properties, with many also upgrading their incoming data lines.
Furthermore, NH is piloting targeted bandwidth upgrades and guest service innovation at NH Collection Madrid Eurobuilding. The network impact of these technologies is monitored and depicted in real-time through the Swisscom Hotelier Dashboard.
Swisscom Hospitality Services VP sales and system integration Simone Colombo said: "We have been working intensively with NH Hotel Group to provide a sustainable, scalable internet service taking into account the massively increasing guest demand for connectivity and bandwidth.
"Our aim is to help position NH as a leader in digital guest services through concrete innovation projects such as the one at NH Collection Madrid Eurobuilding."
Instant device recognition across the chain footprint
Chain-wide at NH, going online is now easier than ever.
NH Hotel Group senior vice-president IT and organisation Alu Rodriguez said: "A guest visiting an NH hotel in Barcelona today is automatically recognised by his mobile device the moment he enters another NH hotel, be it in Madrid, Milan, Amsterdam or Berlin.
"He connects with a single click. This is a great service for our loyal guests and a challenge for us to deliver enhanced digital personalisation."
Automatic guest recognition is one of key features of the Swisscom Fusion Gateway, which builds on Swisscom's long experience in providing hotel Internet solutions. The gateway comes with a comprehensive industry feature set while supporting thousands of simultaneously connected users in a single hotel property.
The partnership between Swisscom Hospitality and NH Hotel Group dates back to 2003 when Wi-Fi broadband access was rolled out chain-wide and Swisscom's advanced conference and event management tools contributed to NH's competitive differentiation. In 2009, NH was first to implement Swisscom Hospitality's smartphone portal. Today, approximately 270 European NH hotels are serviced by Swisscom, as their network and guest technology provider.
---
Photo: The partnership between Swisscom Hospitality and NH Hotel Group dates back to 2003. Image: courtesy of Swisscom.